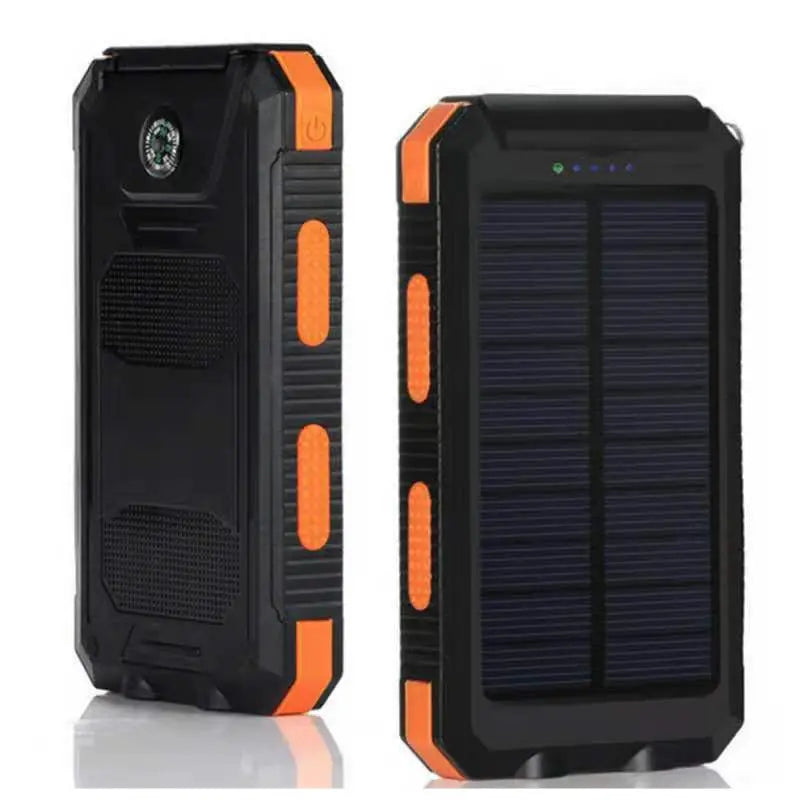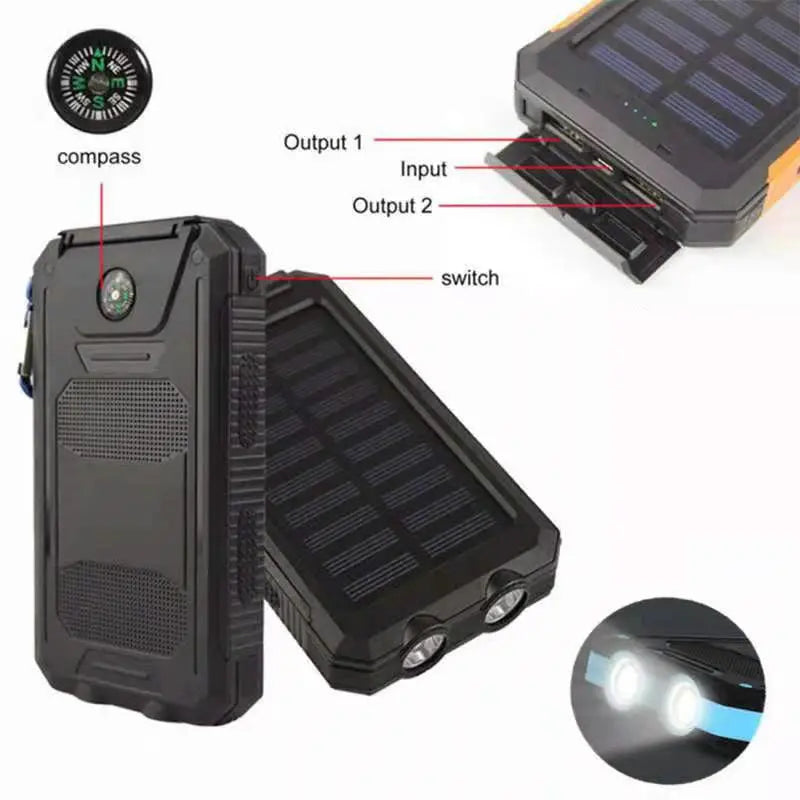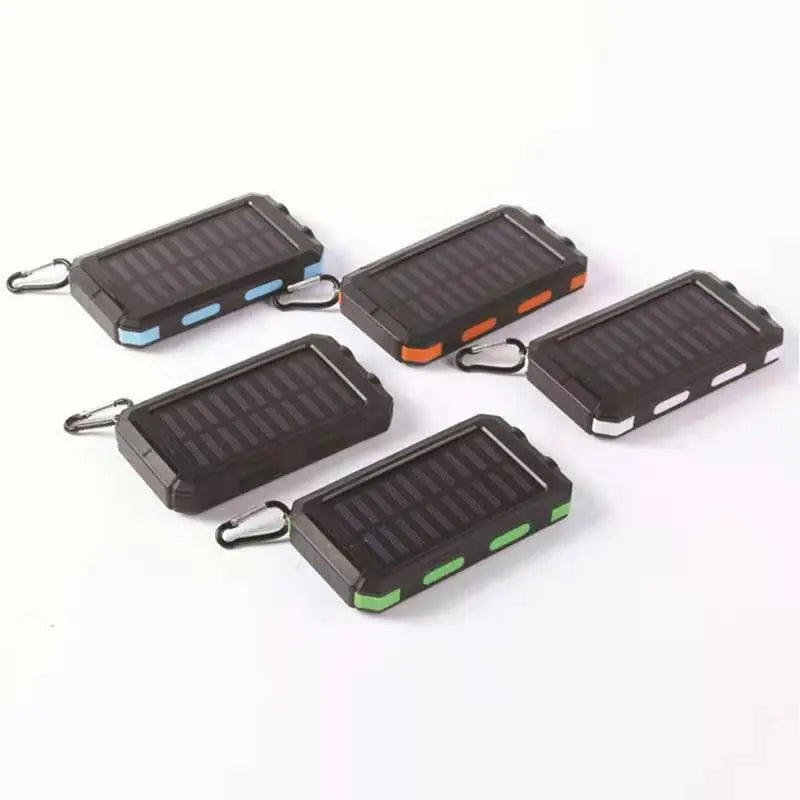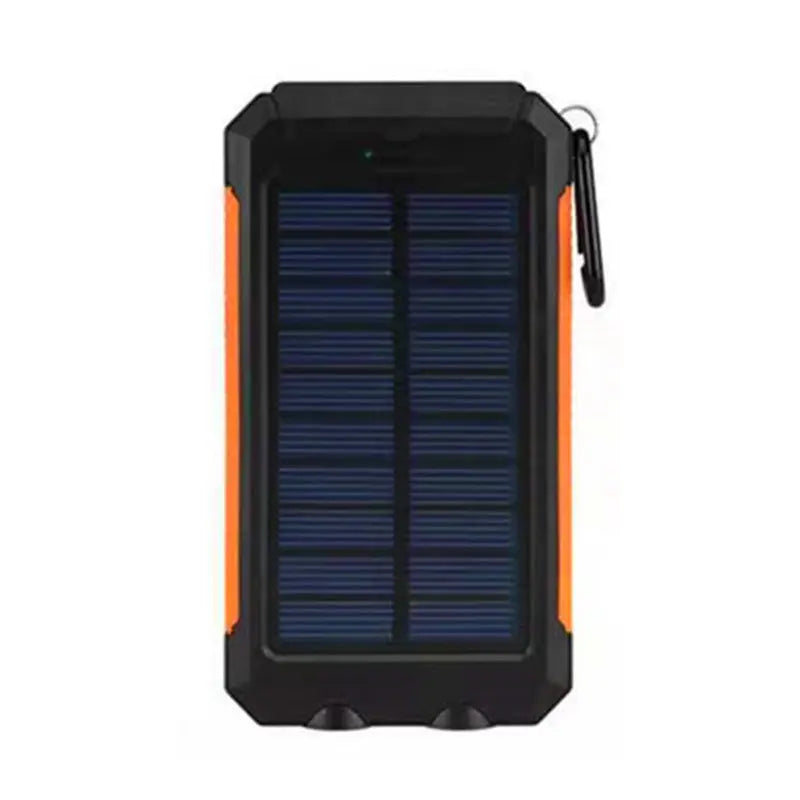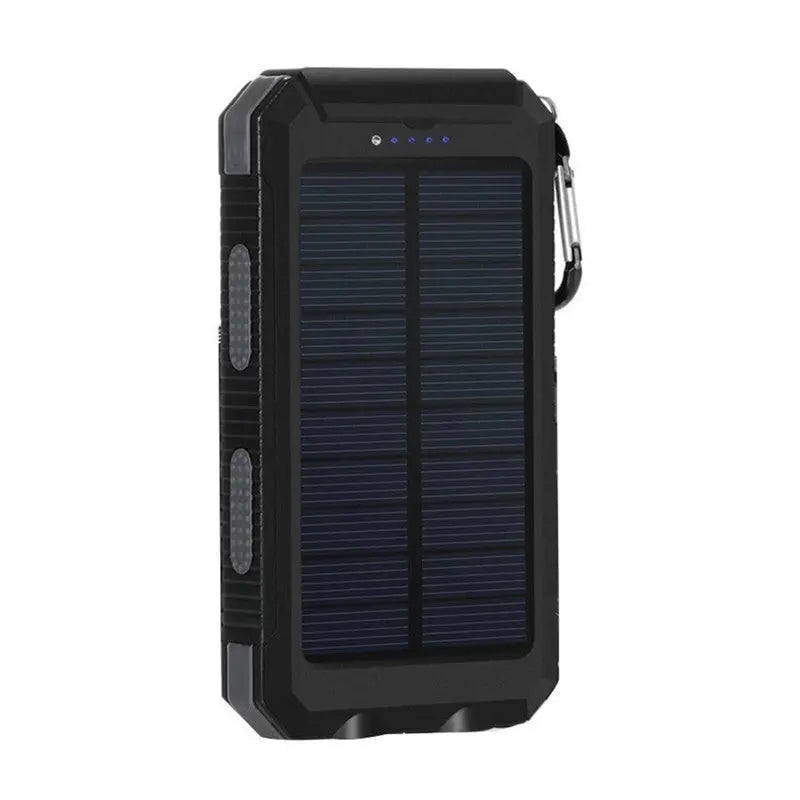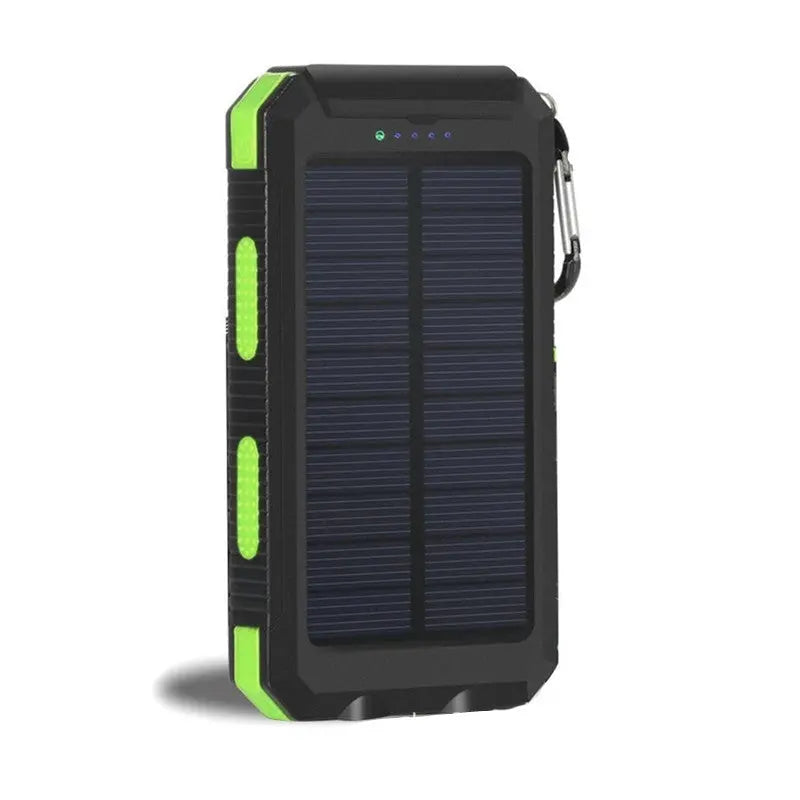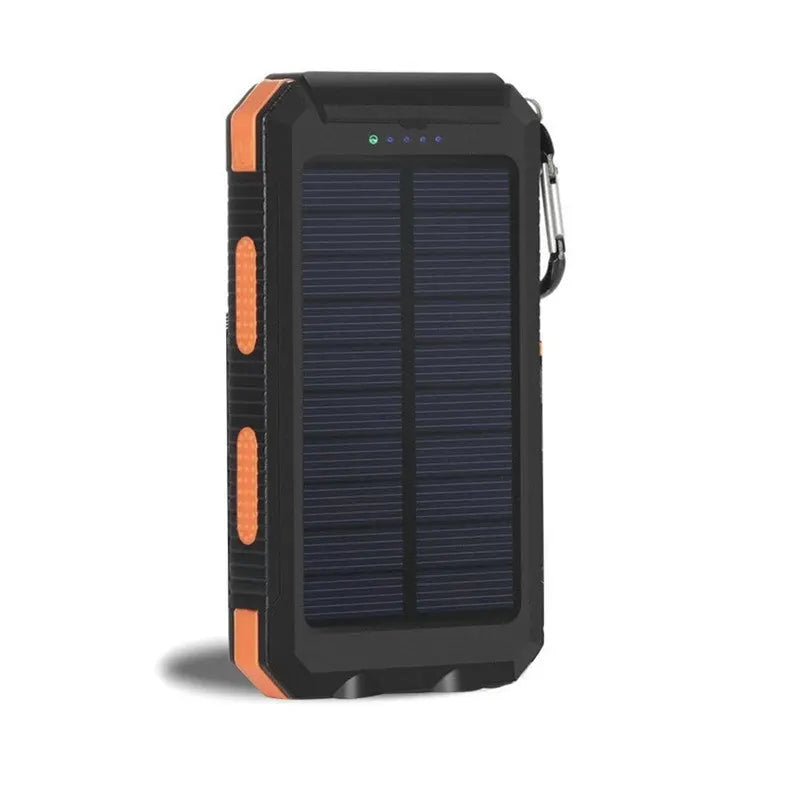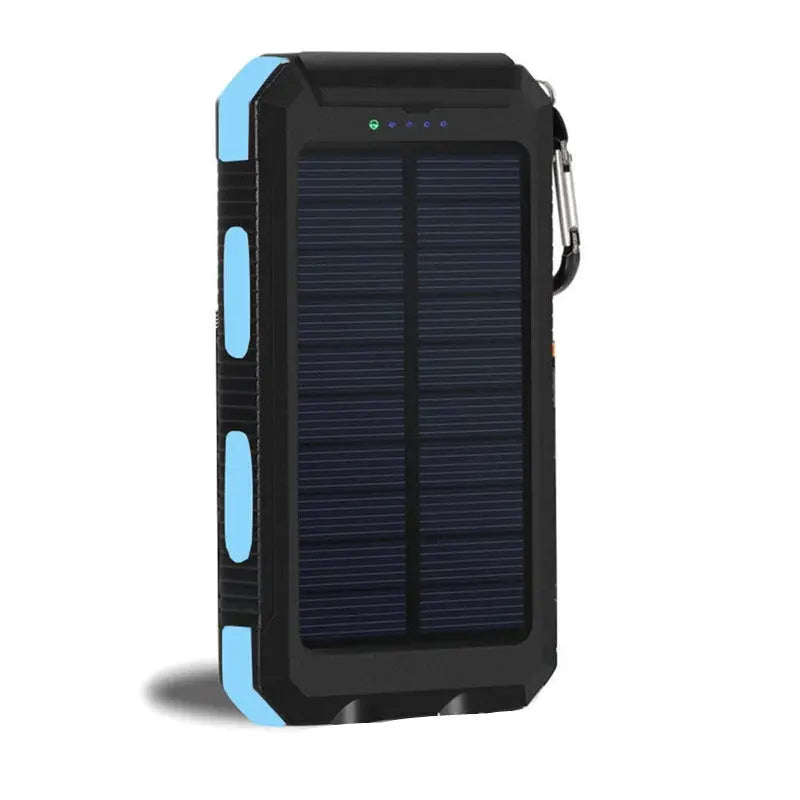 Portable Waterproof 20000mah Solar Power Bank
Solar charger can convert sunlight quickly into electrical energy, let you enjoy life and holiday, and leave the worries behind. 

This Solar Power Bank has a 20000 mAh battery capacity and is specifically designed for outdoor enthusiasts. It is equipped with lithium polymer technology to maximize battery lifespan, thereby drastically improving outdoor experiences. Dual USB and Powerful LED Light make it easy to charge two smartphones simultaneously or a tablet at full speed. 

You don't have to worry about taking it outdoors. Ruggedly constructed, the outer plastic shell and USB connector cover protect it against dust, water splashes, and shock. If you're looking for reliable outdoor equipment this battery is definitely what you need.

Very convenient with 2 powerful LED flashlights, dual universal USB ports, and an integrated compass. 2 led lights can be used as flashlights with Steady-SOS-Strobe mode. Five pilot indicators show the status of the battery charger timely. The green light is on when charging by a solar, blue light is on when the USB is charging.

Features:

2 Led lights create more convenience for travel.
Stylish, portable, user-friendly, and durable for on-the-go use.
Emergency charger for cell phones and other compatible devices.
20000mAh high capacity, solar-powered, environmental protection.
Dual USB Charging enables to charging 2 different interface accessories.

 Specifications:

Max Input: 

15W

Shell Material: 

Plastic

Type: 

Portable Power Bank

Input Interface: 

USB Type C

Battery Capacity: 2

0000mAh

Output Interface: 

Double USB

Battery Type: 

Li-polymer Battery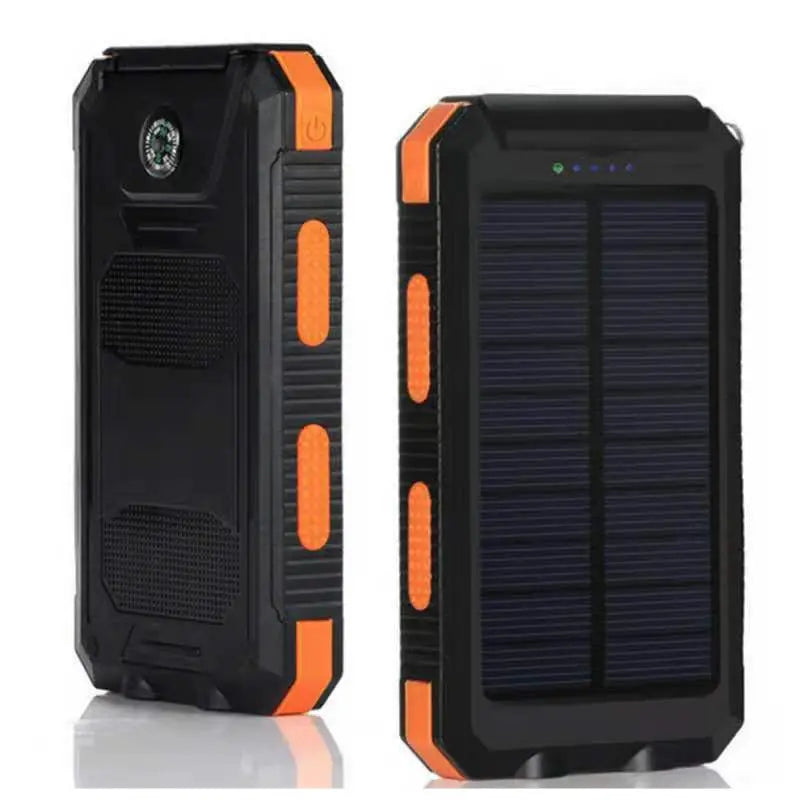 Solar charger can convert sunlight quickly into electrical energy, let you enjoy life and holiday, and leave the worries behind. 
This Solar Power Bank has a 20000 mAh battery capacity and is specifically designed for outdoor enthusiasts. It is equipped with lithium polymer technology to maximize battery lifespan, thereby drastically improving outdoor experiences. Dual USB and Powerful LED Light make it easy to charge two smartphones simultaneously or a tablet at full speed. 
You don't have to worry about taking it outdoors. Ruggedly constructed, the outer plastic shell and USB connector cover protect it against dust, water splashes, and shock. If you're looking for reliable outdoor equipment this battery is definitely what you need.
Very convenient with 2 powerful LED flashlights, dual universal USB ports, and an integrated compass. 2 led lights can be used as flashlights with Steady-SOS-Strobe mode. Five pilot indicators show the status of the battery charger timely. The green light is on when charging by a solar, blue light is on when the USB is charging.
Features:
2 Led lights create more convenience for travel.
Stylish, portable, user-friendly, and durable for on-the-go use.
Emergency charger for cell phones and other compatible devices.
20000mAh high capacity, solar-powered, environmental protection.
Dual USB Charging enables to charging 2 different interface accessories.
 Specifications:
Max Input: 

15W

Shell Material: 

Plastic

Type: 

Portable Power Bank

Input Interface: 

USB Type C

Battery Capacity: 2

0000mAh

Output Interface: 

Double USB

Battery Type: 

Li-polymer Battery
This product has no reviews yet.
This product has no reviews yet.