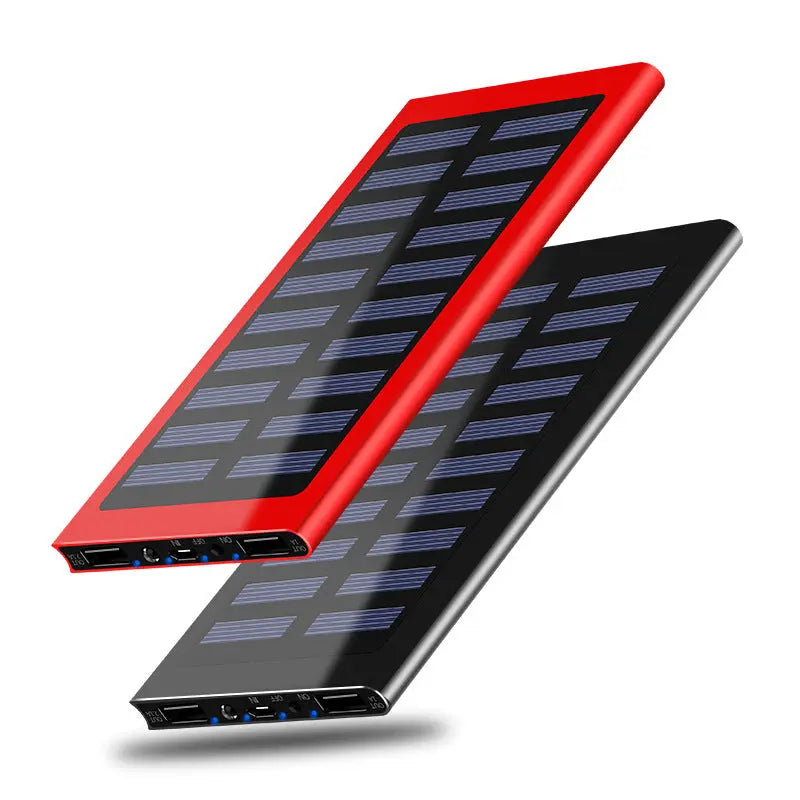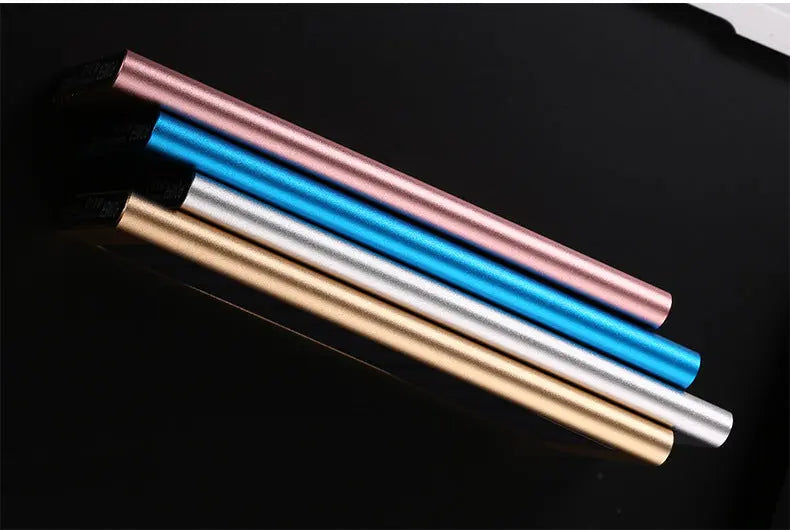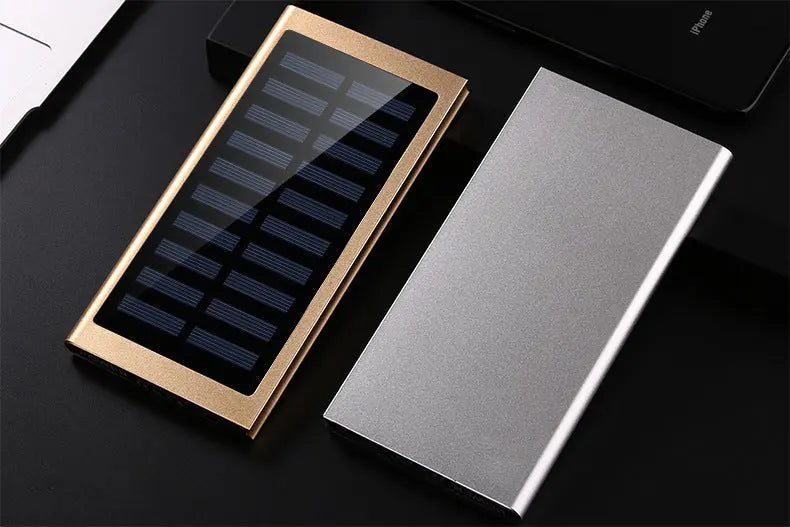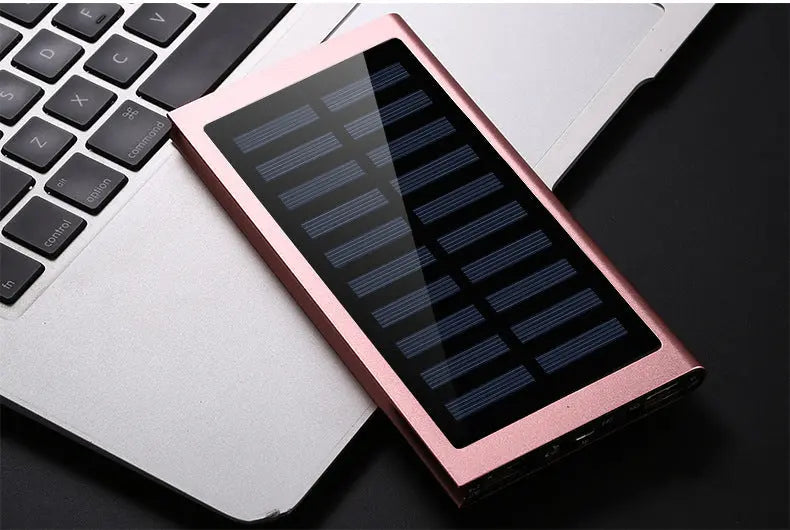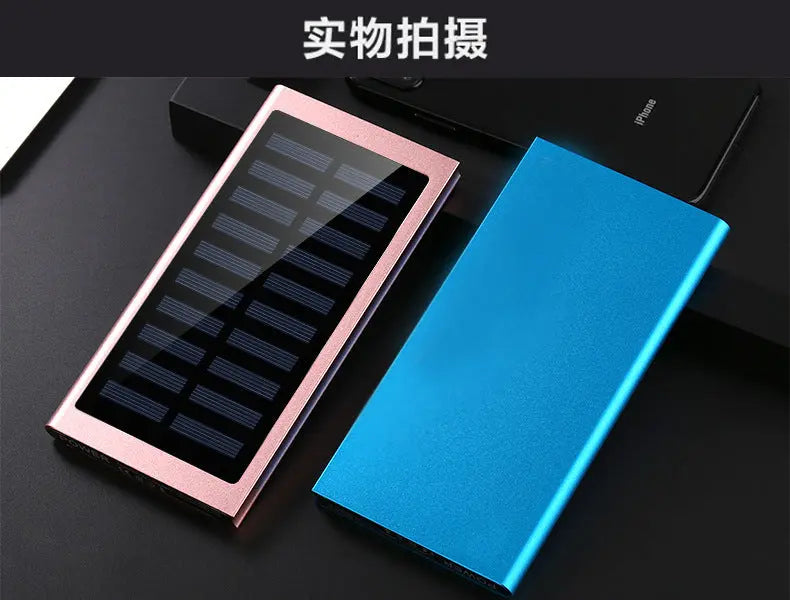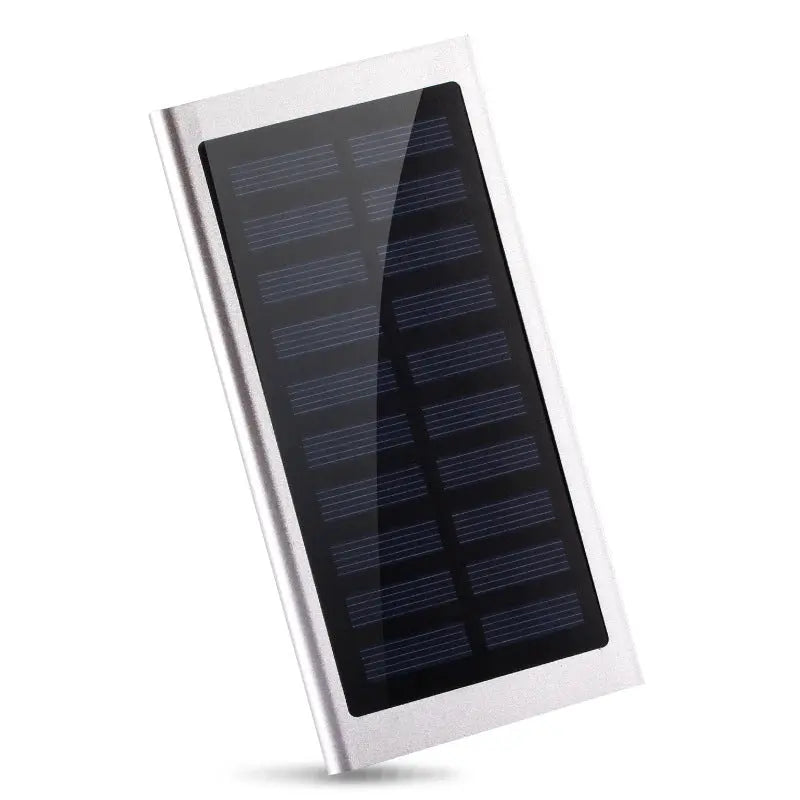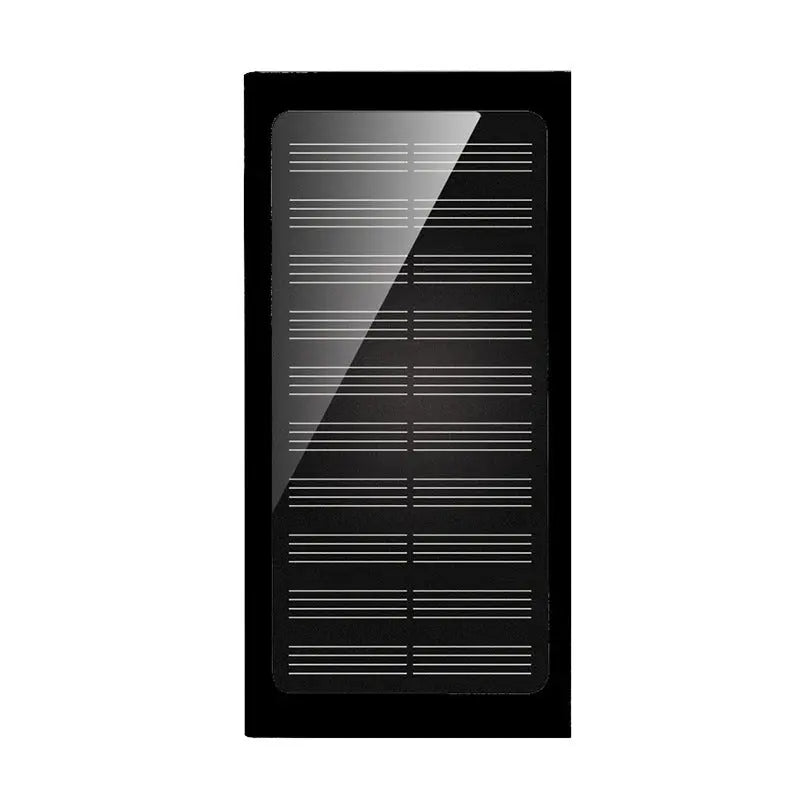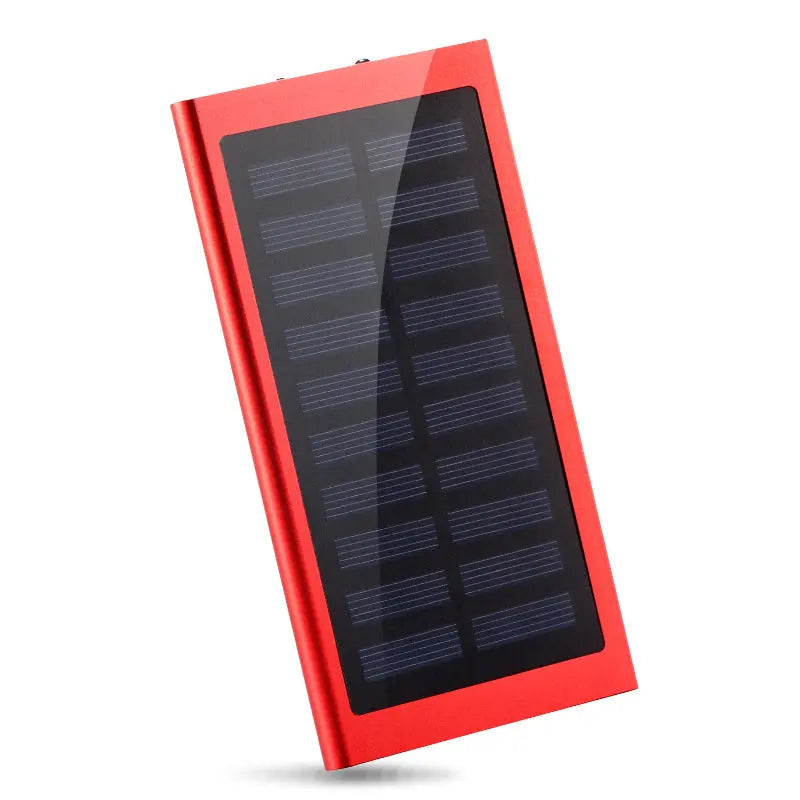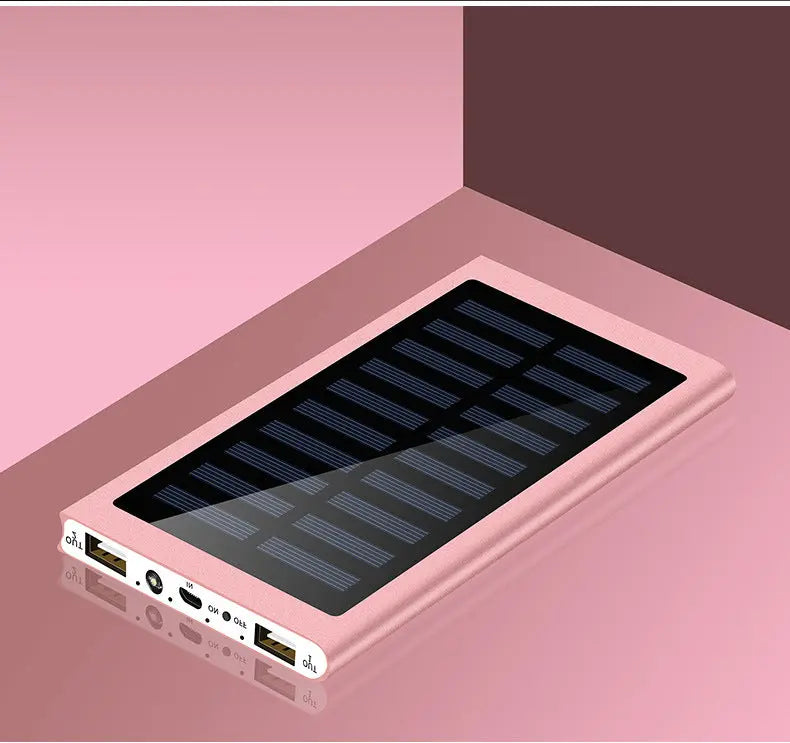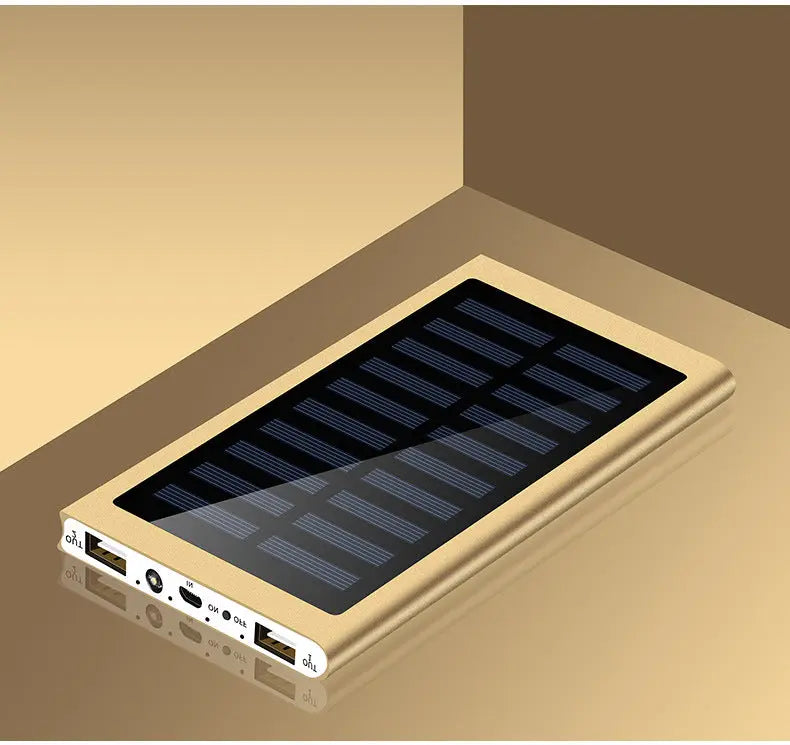 Portable 20000mAh Solar Power Bank
Be prepared for your summer outdoor adventures! Just attach this water-resistant solar power bank to your backpack and your gadgets will always have extra power.

This Solar Power Bank has a 20000 mAh battery capacity and is specifically designed for outdoor enthusiasts. It is equipped with lithium polymer technology to maximize battery lifespan, thereby drastically improving outdoor experiences. You don't have to worry about taking it outdoors. If you're looking for reliable outdoor equipment this battery is definitely what you need.

The shell of the power bank is made of high-strength aluminum alloy, high-grade metallic luster, strong wear resistance, and corrosion resistance. High-capacity batteries with over-charged protection are safe and reliable in performance and strong in endurance. 20000 mAh super capacity, compatible with all mobile phone models. Dual USB ports can charge both devices at the same time.

This power bank is compatible with all cellphones and tablets, such as iPhones, Samsung, Huawei, Sony, Xiaomi, Meizu, etc. And headphones, consoles, and all devices powered via a USB port provide convenience to your life. Upgraded built-in smart chip Charging speed increased by 2 times faster and more stable to auto-filter any danger, can stabilize the equipment and ensure the safety in use.

 

Features:

Alloy Material, very high-quality fabric.

High capacity, solar-powered, environment-friendly.

Portable, easy to use, and durable for use on the move. 

2 USB ports can connect to two devices at the same time. 

Can use solar energy to charge your cell phone wherever and whenever.

Specifications: 

Shell Material:

Metal

Input Interface:

Micro USB

Output Interface:

Double USB

Battery Type:

Li-Polymer Battery

Type:

Portable Solar Power Bank

Color:

Gold, Elegant Silver, Rose Gold, Blue, Red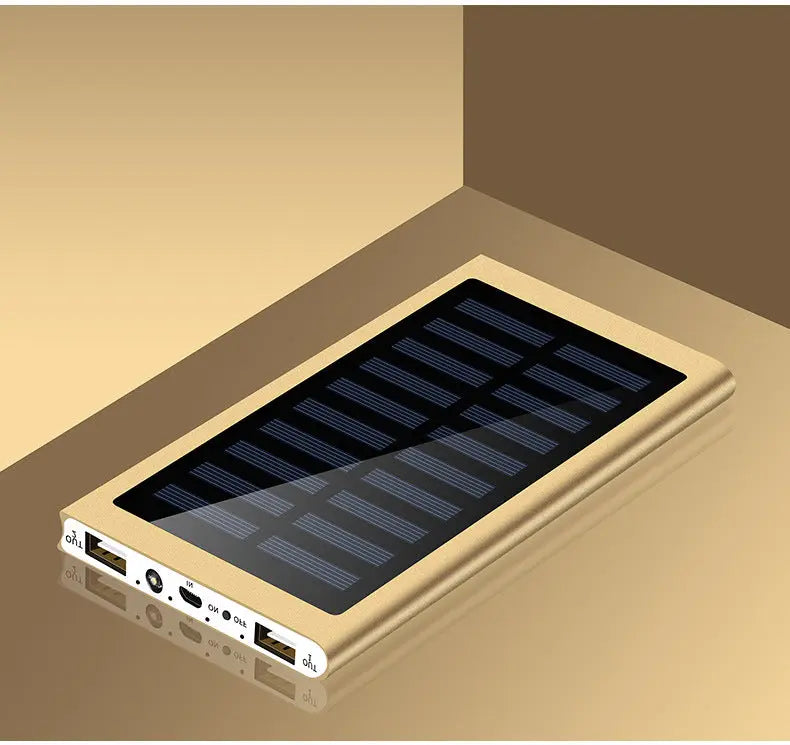 Be prepared for your summer outdoor adventures! Just attach this water-resistant solar power bank to your backpack and your gadgets will always have extra power.
This Solar Power Bank has a 20000 mAh battery capacity and is specifically designed for outdoor enthusiasts. It is equipped with lithium polymer technology to maximize battery lifespan, thereby drastically improving outdoor experiences. You don't have to worry about taking it outdoors. If you're looking for reliable outdoor equipment this battery is definitely what you need.
The shell of the power bank is made of high-strength aluminum alloy, high-grade metallic luster, strong wear resistance, and corrosion resistance. High-capacity batteries with over-charged protection are safe and reliable in performance and strong in endurance. 20000 mAh super capacity, compatible with all mobile phone models. Dual USB ports can charge both devices at the same time.
This power bank is compatible with all cellphones and tablets, such as iPhones, Samsung, Huawei, Sony, Xiaomi, Meizu, etc. And headphones, consoles, and all devices powered via a USB port provide convenience to your life. Upgraded built-in smart chip Charging speed increased by 2 times faster and more stable to auto-filter any danger, can stabilize the equipment and ensure the safety in use.
Features:
Alloy Material, very high-quality fabric.

High capacity, solar-powered, environment-friendly.

Portable, easy to use, and durable for use on the move. 

2 USB ports can connect to two devices at the same time. 

Can use solar energy to charge your cell phone wherever and whenever.
Specifications: 
Shell Material:

Metal

Input Interface:

Micro USB

Output Interface:

Double USB

Battery Type:

Li-Polymer Battery

Type:

Portable Solar Power Bank

Color:

Gold, Elegant Silver, Rose Gold, Blue, Red
This product has no reviews yet.
This product has no reviews yet.