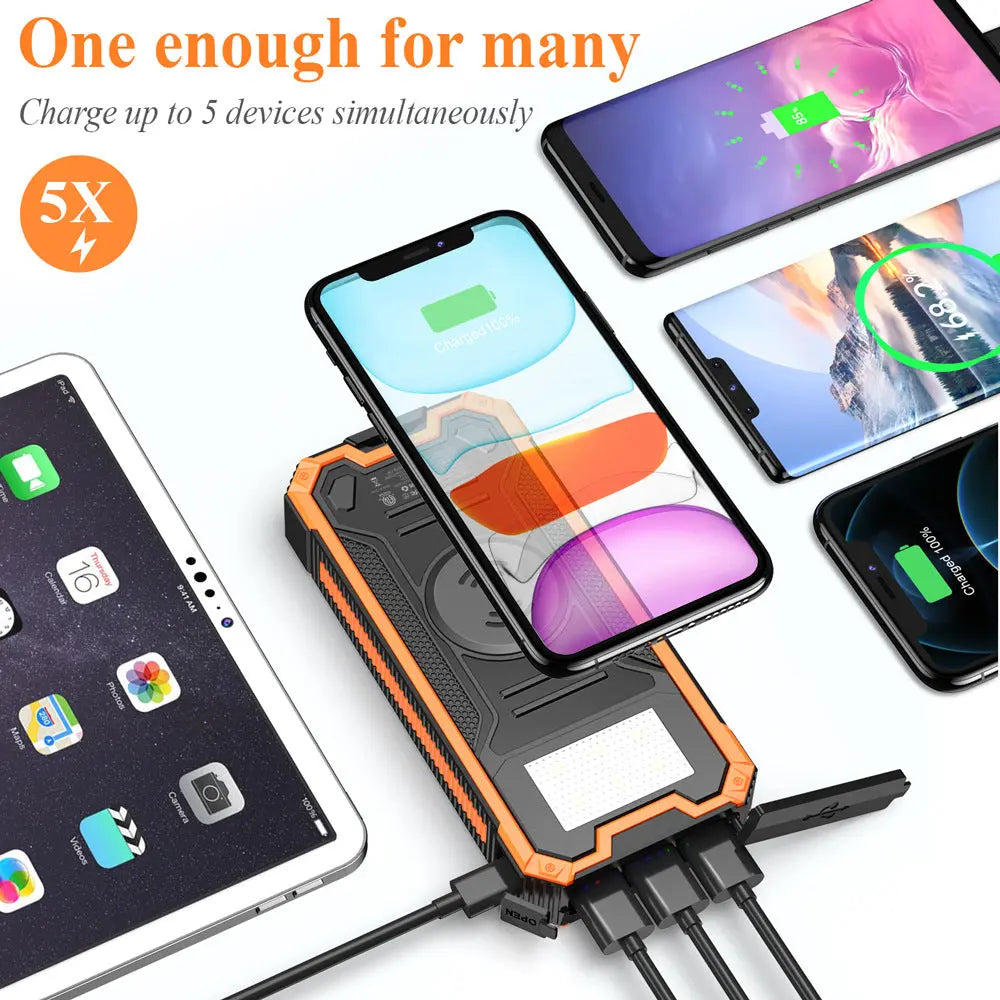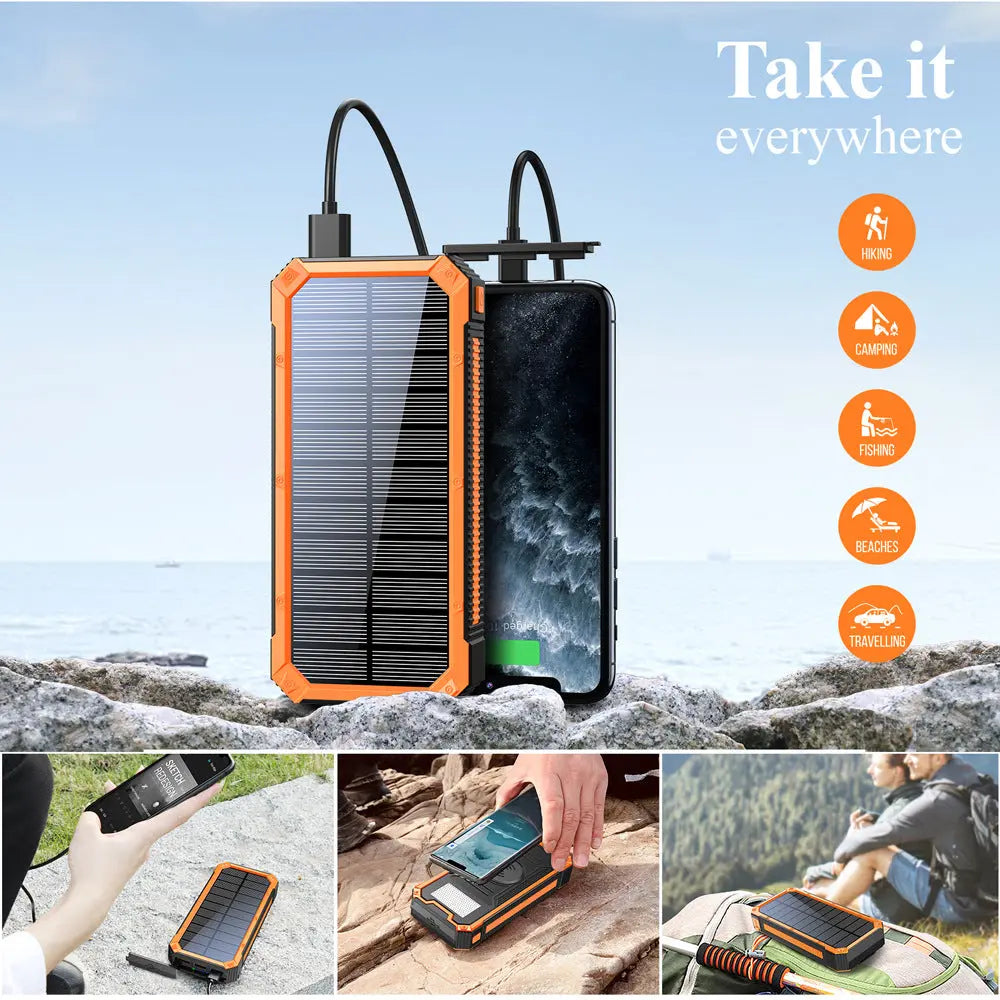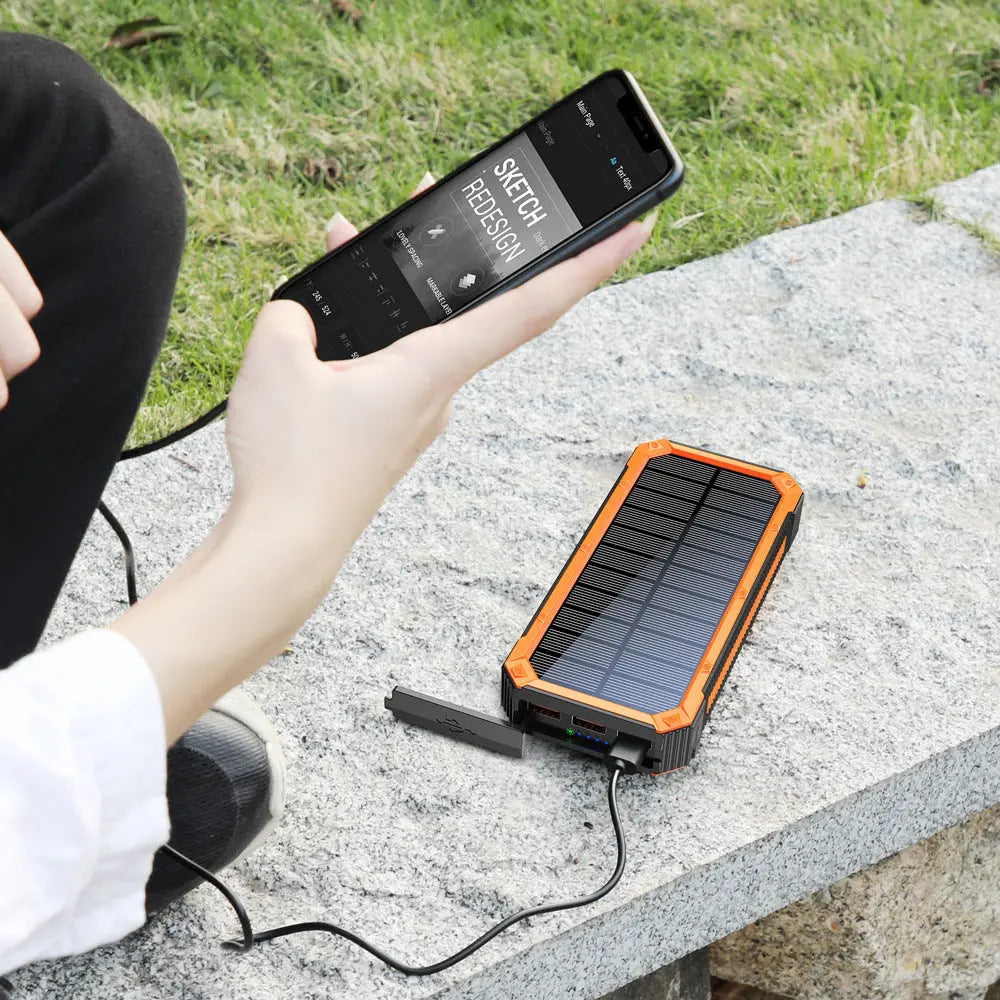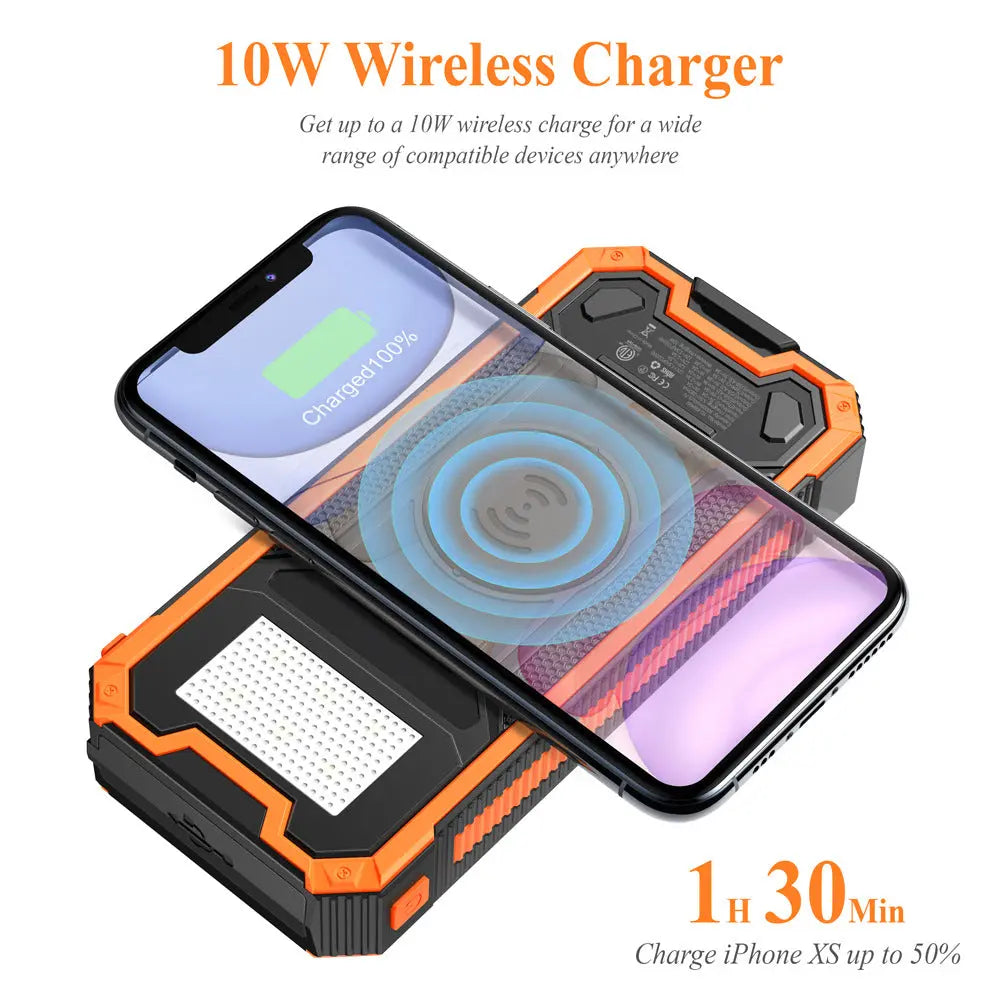 Portable Wireless Solar Mobile Power Bank
 Keep your devices charged and ready for travel with our Wireless Solar Power Bank. With a 30000mAh capacity and solar charging capabilities.

Portable Wireless Solar Mobile Power Bank is made of ABS and PC material portable solar charger can be rain splash, dustproof, etc. Wireless phone charger built-in smart security chip to monitor temperature, smart protection, the solar power bank is equipped with a 1.8w solar panel bank which provides 12 hours of lighting.

A huge capacity 30000mAh Power Bank automatically adjusts the output to deliver the most suitable current, it keeps your devices from overcharging, over-voltage, and over-current, and short circuits. Easily slips into your bag for accessible power anywhere. It is the best choice for a business trips, traveling, parties, BBQs,s and outdoor activities.

Super Strong light LED Flashlight is a perfect outdoor companion, easily slips into your bag for accessible power anywhere, and is easy to hang on your backpack for outdoor activities. The power bank has a shell made of ABS material. There is a shock absorption design inside the product. Even if it falls from high meters, it can still be used normally.

Features:

5 outputs portable charger.
Multi-intelligent protection.

Made of ABS and PC material.

Charge your devices anywhere.
Shockproof, Dustproof, IP55 Waterproof.

Specifications:


Solar Power: 1.8W
Output: USB (A3): 5V/3A
Input Micro: 5V/2A, 9V/2A;
Input Type-C: 5V/3A, 9V/2A
Wireless Charge: 10W
Material: Plastic ABS+Silicone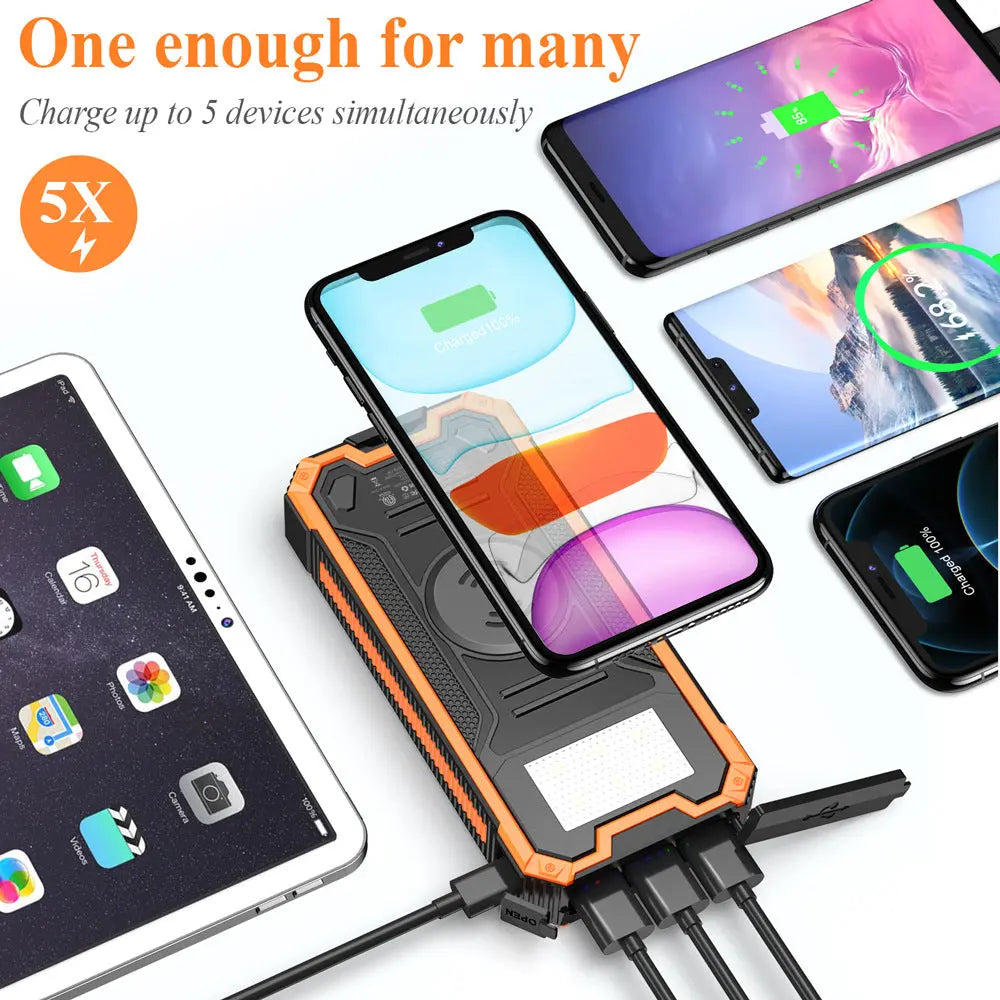 Keep your devices charged and ready for travel with our Wireless Solar Power Bank. With a 30000mAh capacity and solar charging capabilities.
Portable Wireless Solar Mobile Power Bank is made of ABS and PC material portable solar charger can be rain splash, dustproof, etc. Wireless phone charger built-in smart security chip to monitor temperature, smart protection, the solar power bank is equipped with a 1.8w solar panel bank which provides 12 hours of lighting.
A huge capacity 30000mAh Power Bank automatically adjusts the output to deliver the most suitable current, it keeps your devices from overcharging, over-voltage, and over-current, and short circuits. Easily slips into your bag for accessible power anywhere. It is the best choice for a business trips, traveling, parties, BBQs,s and outdoor activities.
Super Strong light LED Flashlight is a perfect outdoor companion, easily slips into your bag for accessible power anywhere, and is easy to hang on your backpack for outdoor activities. The power bank has a shell made of ABS material. There is a shock absorption design inside the product. Even if it falls from high meters, it can still be used normally.
Features:
5 outputs portable charger.
Multi-intelligent protection.

Made of ABS and PC material.

Charge your devices anywhere.
Shockproof, Dustproof, IP55 Waterproof.
Specifications:

Solar Power: 1.8W
Output: USB (A3): 5V/3A
Input Micro: 5V/2A, 9V/2A;
Input Type-C: 5V/3A, 9V/2A
Wireless Charge: 10W
Material: Plastic ABS+Silicone
This product has no reviews yet.
This product has no reviews yet.