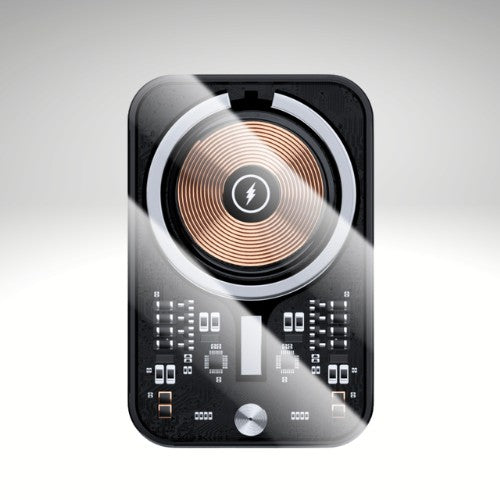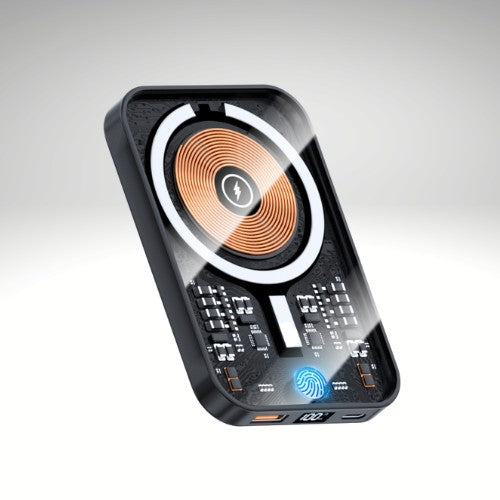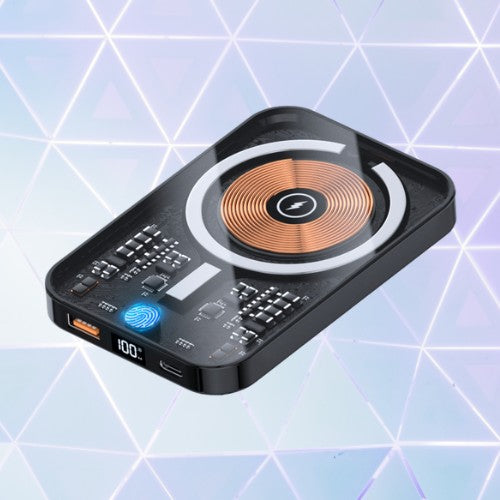 Transparent Magnetic Wireless Power Bank
The power bank is equipped with a ring of MagSafe-compatible magnets surrounding the wireless charging coil, which will help it to stay snuggly attached to the iPhone 12 or 13 series smartphone. The battery features 10,000mAh of power and even has an MFi-Certified Lightning port on the base to allow for easy charging. An LED indicator will communicate the charge level to ensure it's always ready for use.

Breaking through the visual barrier, the new aesthetics of magnetic technology. For Apple MFi official certification, strong magnetic force hits it off, unlimited support with strong chips. Between the square inches, the magnetic attraction is full of charm. Lock on the target, autofocus, and instantly set off an electric frenzy. Exquisite design, the leather bottom cover turns into a multi-functional bracket in seconds, adapting to adapt to various situations.

Peak booster, portable energy supply station, high-energy battery life, and super-state. Mini body, easy to play with one hand, take pictures while charging, without blocking the phone lens. It supports playing mobile phones while charging. When the mobile power supply is charging, it can also charge the mobile phone, which is exciting and refreshing.

Features:

We improved the materials of our product.
Efficient charge with Magsafe devices like iPhone 13/12 Series. 

perfect impressive gift or iPhone 13/12 accessories for him or her.

Clear tempered glass features conceptual art with a premium metallic edge.

Professional security technology provides complete protection for your devices.

Specifications:


Color: Black
Size: 97*65*19mm
Shell material: PVC
Battery Type: Soft Pack
Power Capacity: 10000mah
Cell Type: Polymer Lithium-ion Battery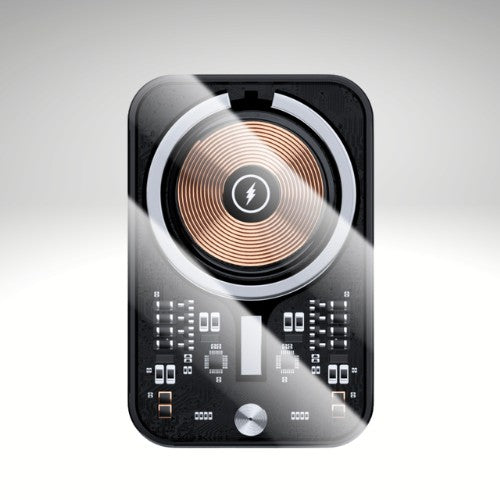 The power bank is equipped with a ring of MagSafe-compatible magnets surrounding the wireless charging coil, which will help it to stay snuggly attached to the iPhone 12 or 13 series smartphone. The battery features 10,000mAh of power and even has an MFi-Certified Lightning port on the base to allow for easy charging. An LED indicator will communicate the charge level to ensure it's always ready for use.
Breaking through the visual barrier, the new aesthetics of magnetic technology. For Apple MFi official certification, strong magnetic force hits it off, unlimited support with strong chips. Between the square inches, the magnetic attraction is full of charm. Lock on the target, autofocus, and instantly set off an electric frenzy. Exquisite design, the leather bottom cover turns into a multi-functional bracket in seconds, adapting to adapt to various situations.
Peak booster, portable energy supply station, high-energy battery life, and super-state. Mini body, easy to play with one hand, take pictures while charging, without blocking the phone lens. It supports playing mobile phones while charging. When the mobile power supply is charging, it can also charge the mobile phone, which is exciting and refreshing.
Features:
We improved the materials of our product.
Efficient charge with Magsafe devices like iPhone 13/12 Series. 

perfect impressive gift or iPhone 13/12 accessories for him or her.

Clear tempered glass features conceptual art with a premium metallic edge.

Professional security technology provides complete protection for your devices.
Specifications:

Color: Black
Size: 97*65*19mm
Shell material: PVC
Battery Type: Soft Pack
Power Capacity: 10000mah
Cell Type: Polymer Lithium-ion Battery
This product has no reviews yet.
This product has no reviews yet.