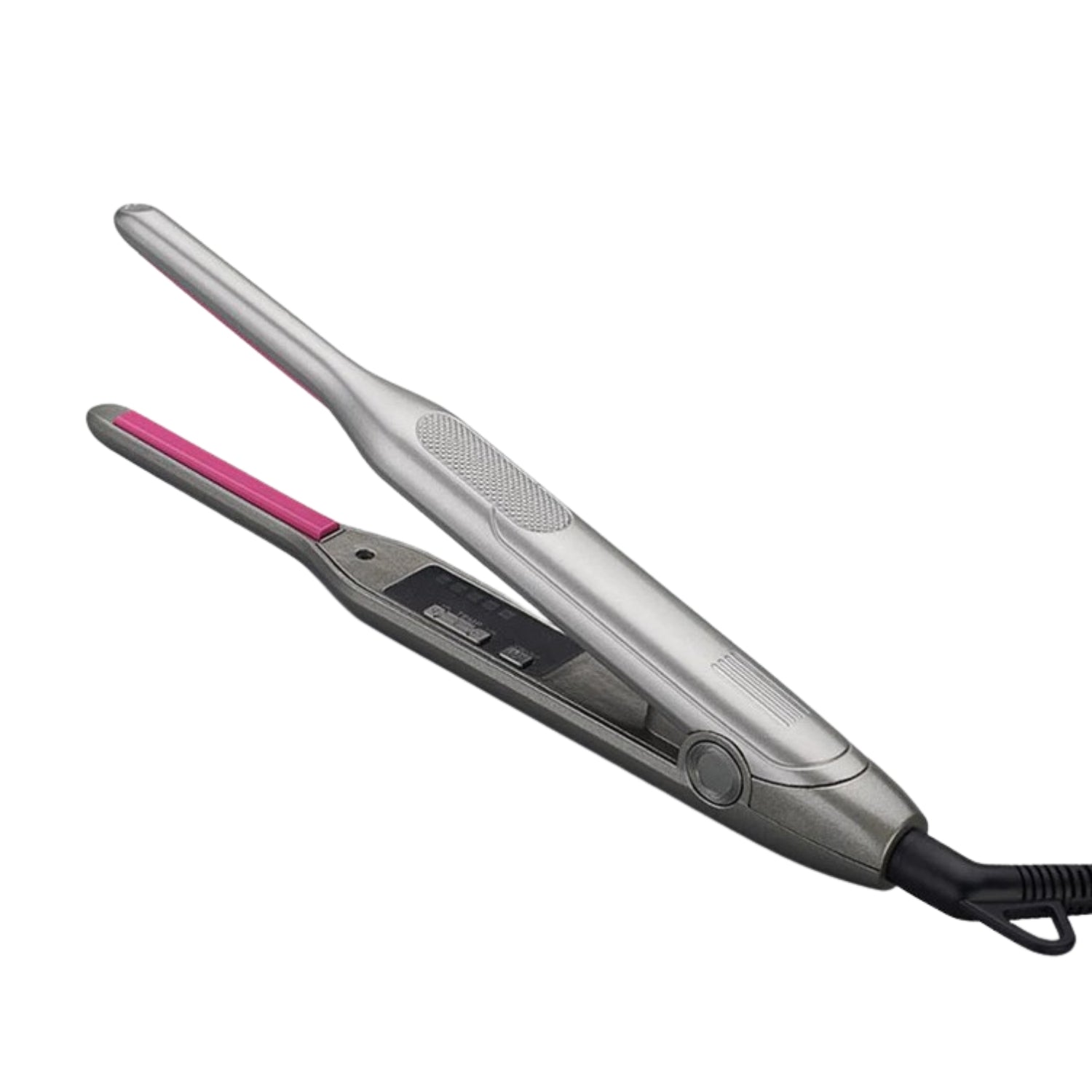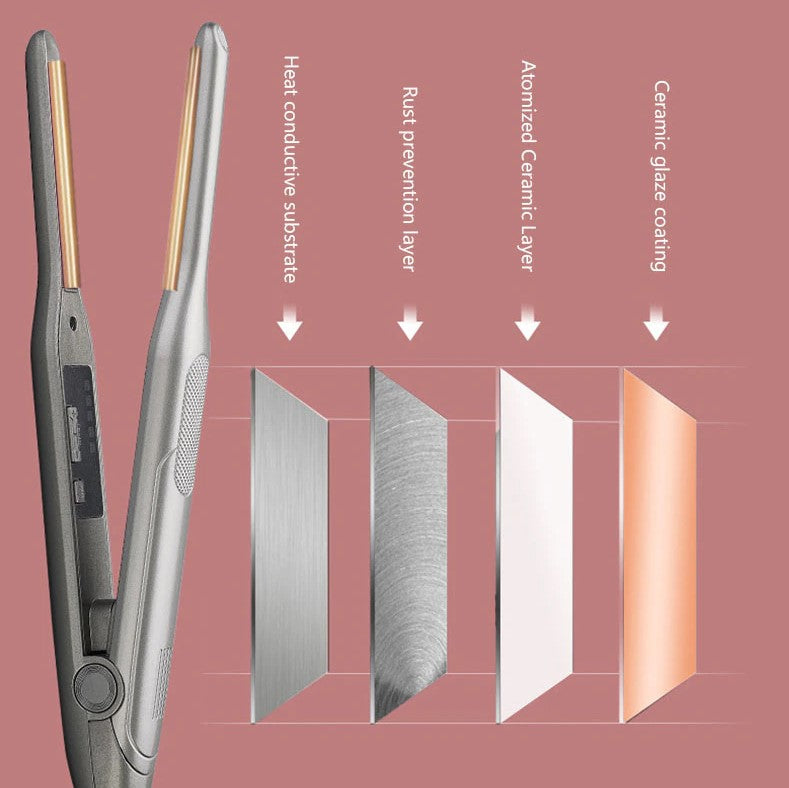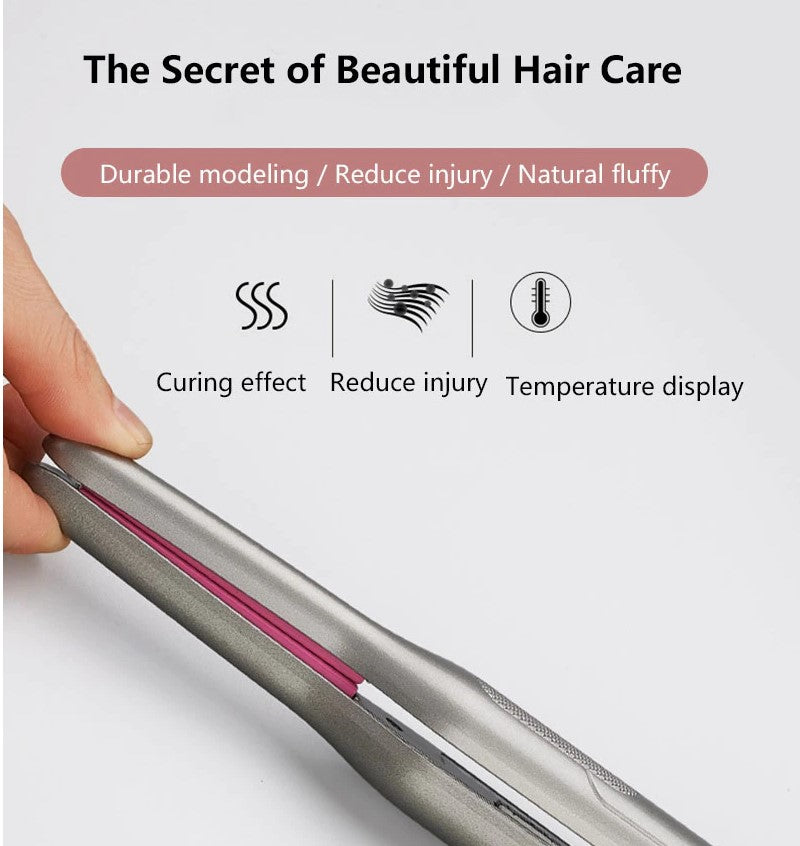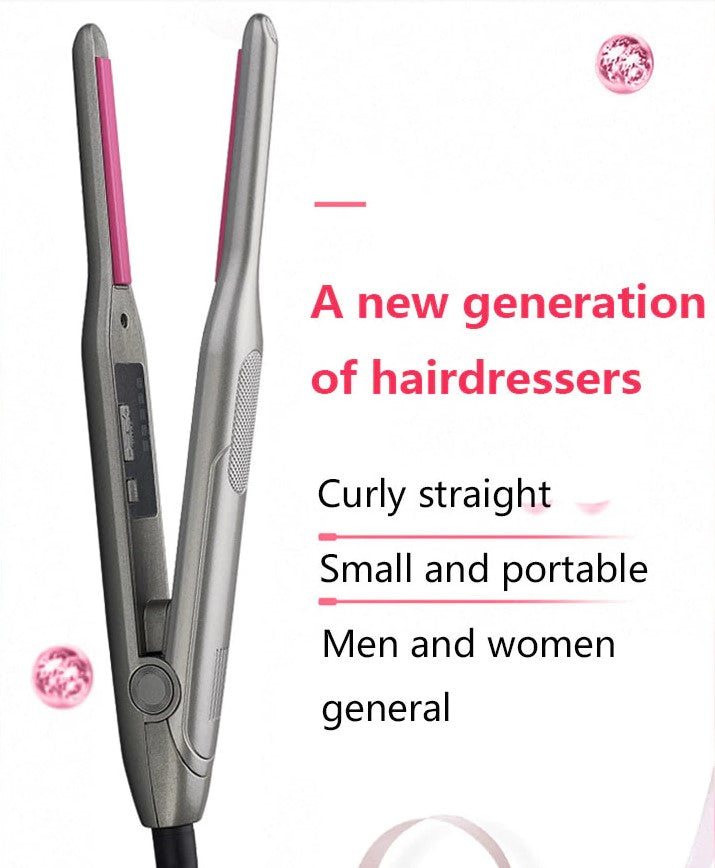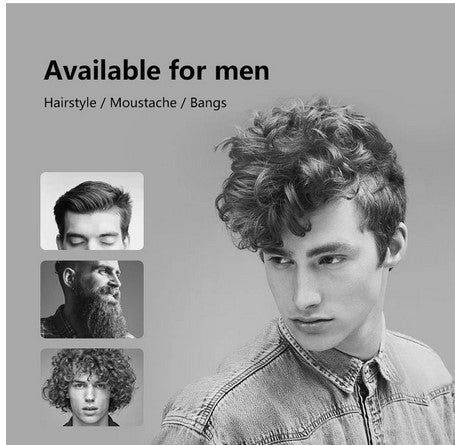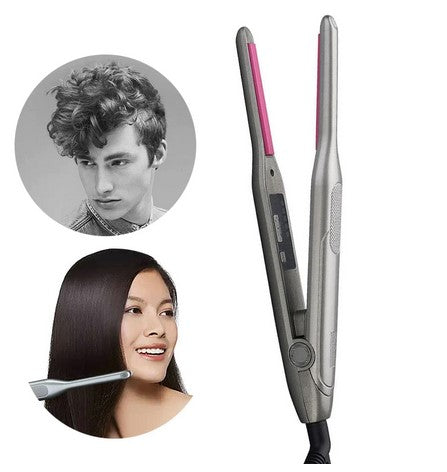 Ceramic Flat Iron and Curling Iron Hair Straightener
A perfect styling tool for anyone looking to achieve salon-quality results at home.

With its compact design and 3/10 inch plates, this flat iron is ideal for creating versatile styles on short hair, beards, and even ladies' bangs. The unique combination of titanium plates, ceramic coating, and floating panel design ensures even heat distribution, eliminating frizz and preserving hair moisture.

This flat iron has 5 adjustable heat settings that cater to all hair types, with a temperature range of 302°F to 450°F. The easy-to-use digital temperature controls and comfortable grip make it simple to achieve the perfect straightening or curling temperature for your hair.

The non-slip surface and auto shut-off protection after 60 minutes ensure safety and peace of mind during use, while the dual voltage makes it an excellent choice for travel. This flat iron is not just convenient, it is also highly effective at transforming hair, leaving it shiny and sleek.

Not only does this flat iron have a thermal conductor material of tourmaline ceramic and a thermal conductor diameter of 0.6 inches or less, but it also heats up quickly, with a best modeling time of 1-2 minutes. The voltage is 100-240V 50/60Hz, and the power is 40-70W. The product dimensions are 10.4 x 1.2 inches.

If you are looking for a professional-grade styling tool that delivers salon-quality results, look no further than the "Ceramic Flat Iron and Curling Iron Hair Straightener". Whether you're looking to straighten, curl, or create versatile styles, this flat iron has you covered.

3/10 inch plates size
Dual Voltage
Titanium plates + ceramic coating + floating panel unique buzzer design

Non-slip surface
5 Optional heat settings for all hair types
0.2 in. thickness panel design that compatible with ladies bangs, straight hair curls, men's wool roll beard straightening a machine to get 
60 minutes auto switch off protection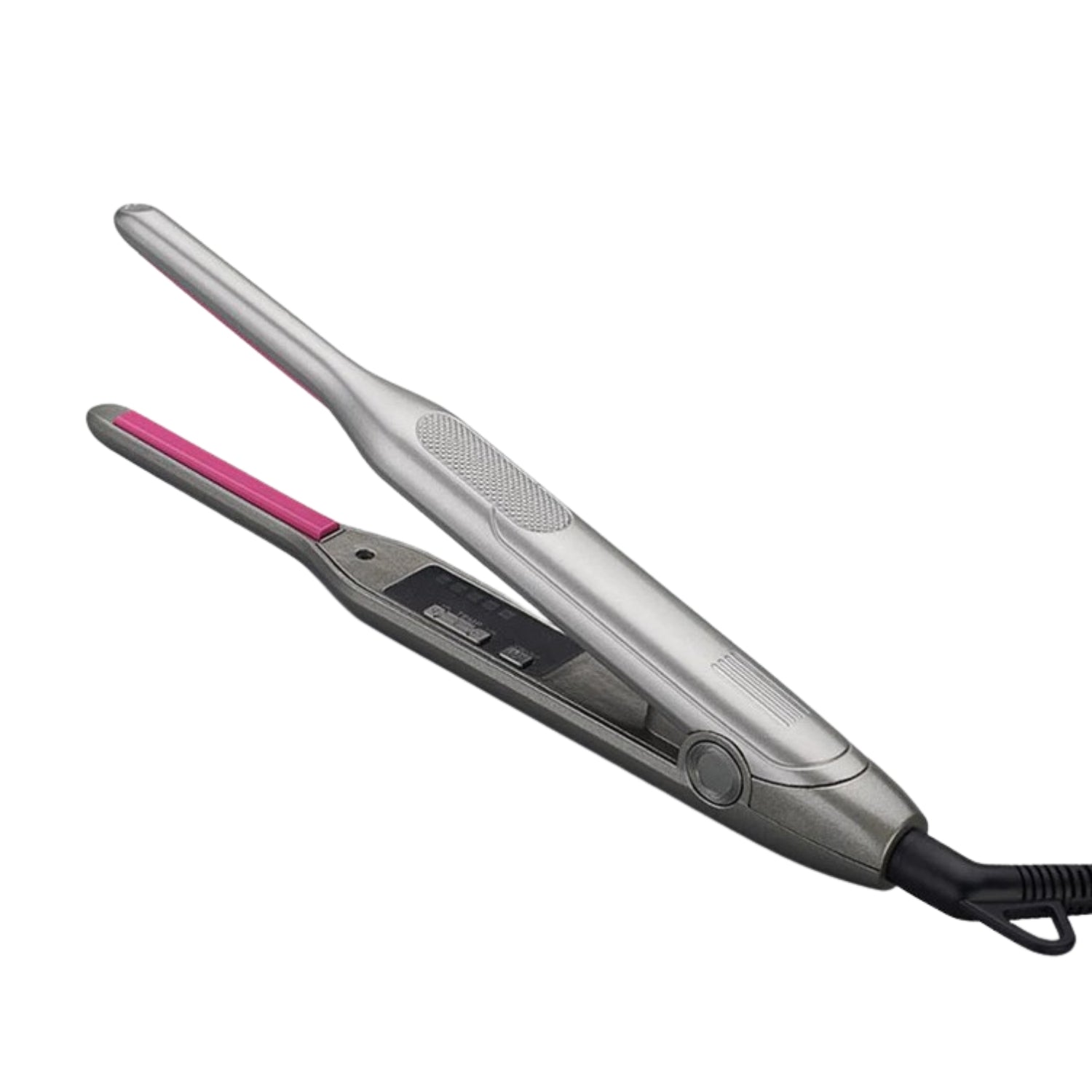 A perfect styling tool for anyone looking to achieve salon-quality results at home.
With its compact design and 3/10 inch plates, this flat iron is ideal for creating versatile styles on short hair, beards, and even ladies' bangs. The unique combination of titanium plates, ceramic coating, and floating panel design ensures even heat distribution, eliminating frizz and preserving hair moisture.
This flat iron has 5 adjustable heat settings that cater to all hair types, with a temperature range of 302°F to 450°F. The easy-to-use digital temperature controls and comfortable grip make it simple to achieve the perfect straightening or curling temperature for your hair.
The non-slip surface and auto shut-off protection after 60 minutes ensure safety and peace of mind during use, while the dual voltage makes it an excellent choice for travel. This flat iron is not just convenient, it is also highly effective at transforming hair, leaving it shiny and sleek.
Not only does this flat iron have a thermal conductor material of tourmaline ceramic and a thermal conductor diameter of 0.6 inches or less, but it also heats up quickly, with a best modeling time of 1-2 minutes. The voltage is 100-240V 50/60Hz, and the power is 40-70W. The product dimensions are 10.4 x 1.2 inches.
If you are looking for a professional-grade styling tool that delivers salon-quality results, look no further than the "Ceramic Flat Iron and Curling Iron Hair Straightener". Whether you're looking to straighten, curl, or create versatile styles, this flat iron has you covered.
3/10 inch plates size
Dual Voltage
Titanium plates + ceramic coating + floating panel unique buzzer design

Non-slip surface
5 Optional heat settings for all hair types
0.2 in. thickness panel design that compatible with ladies bangs, straight hair curls, men's wool roll beard straightening a machine to get 
60 minutes auto switch off protection

This product has no reviews yet.
This product has no reviews yet.