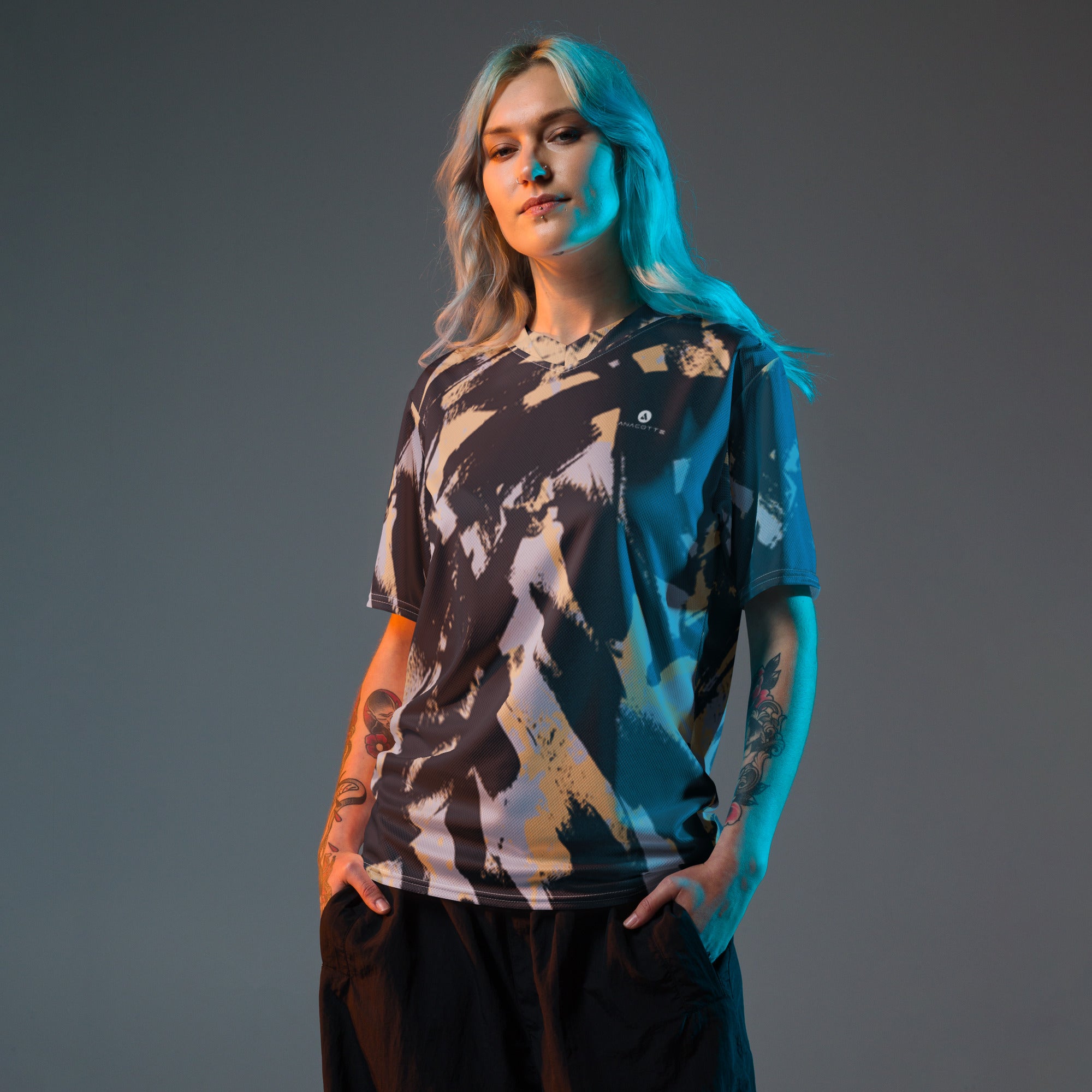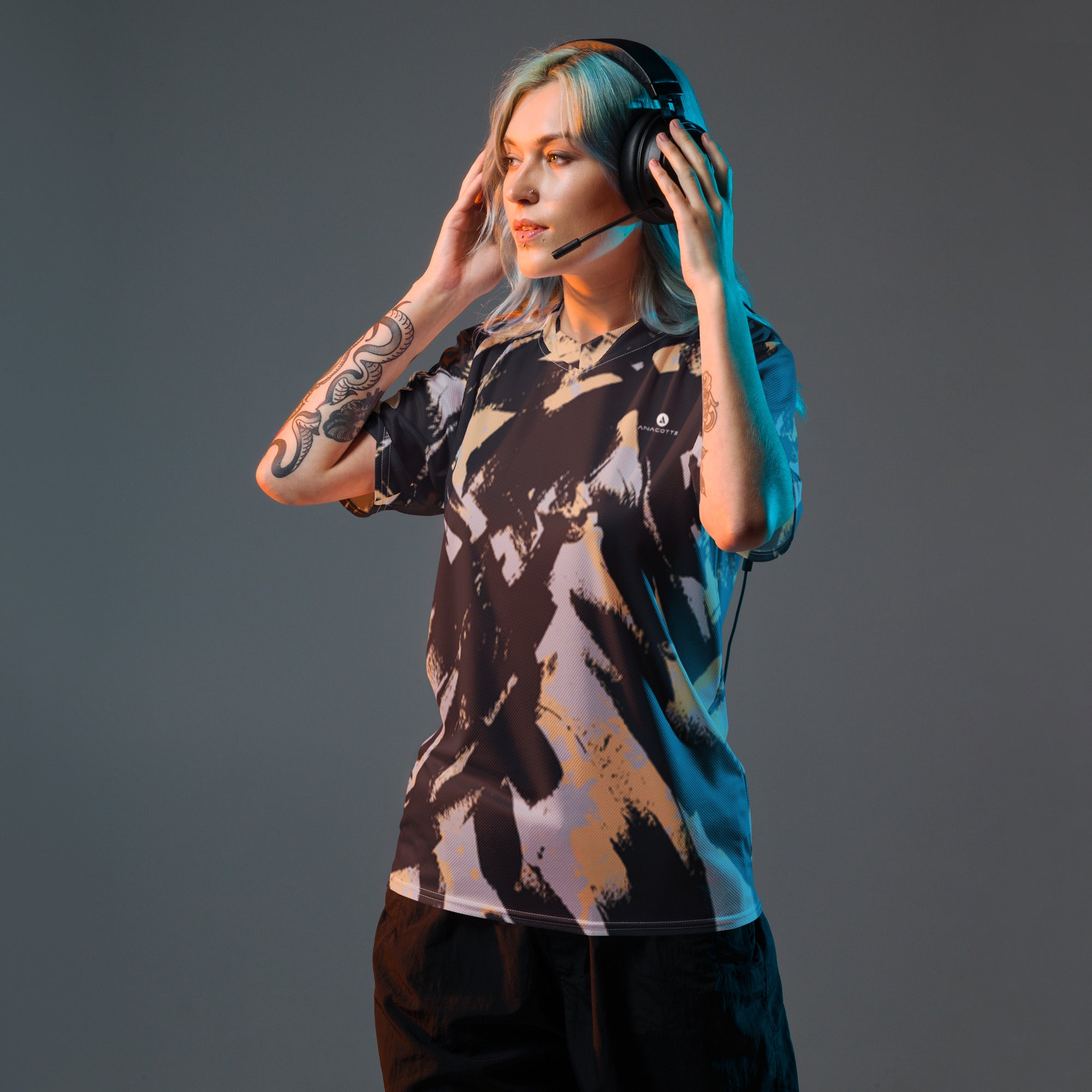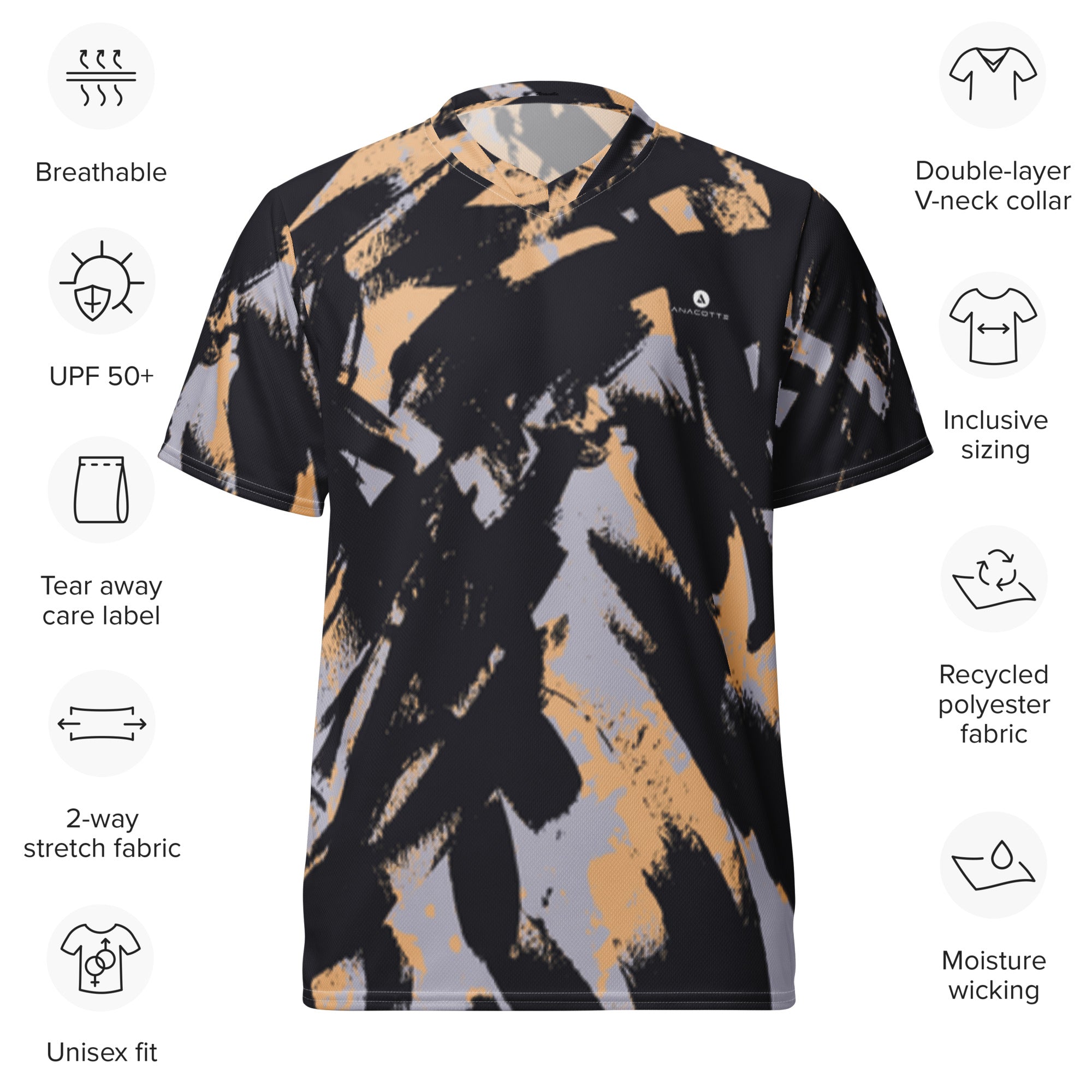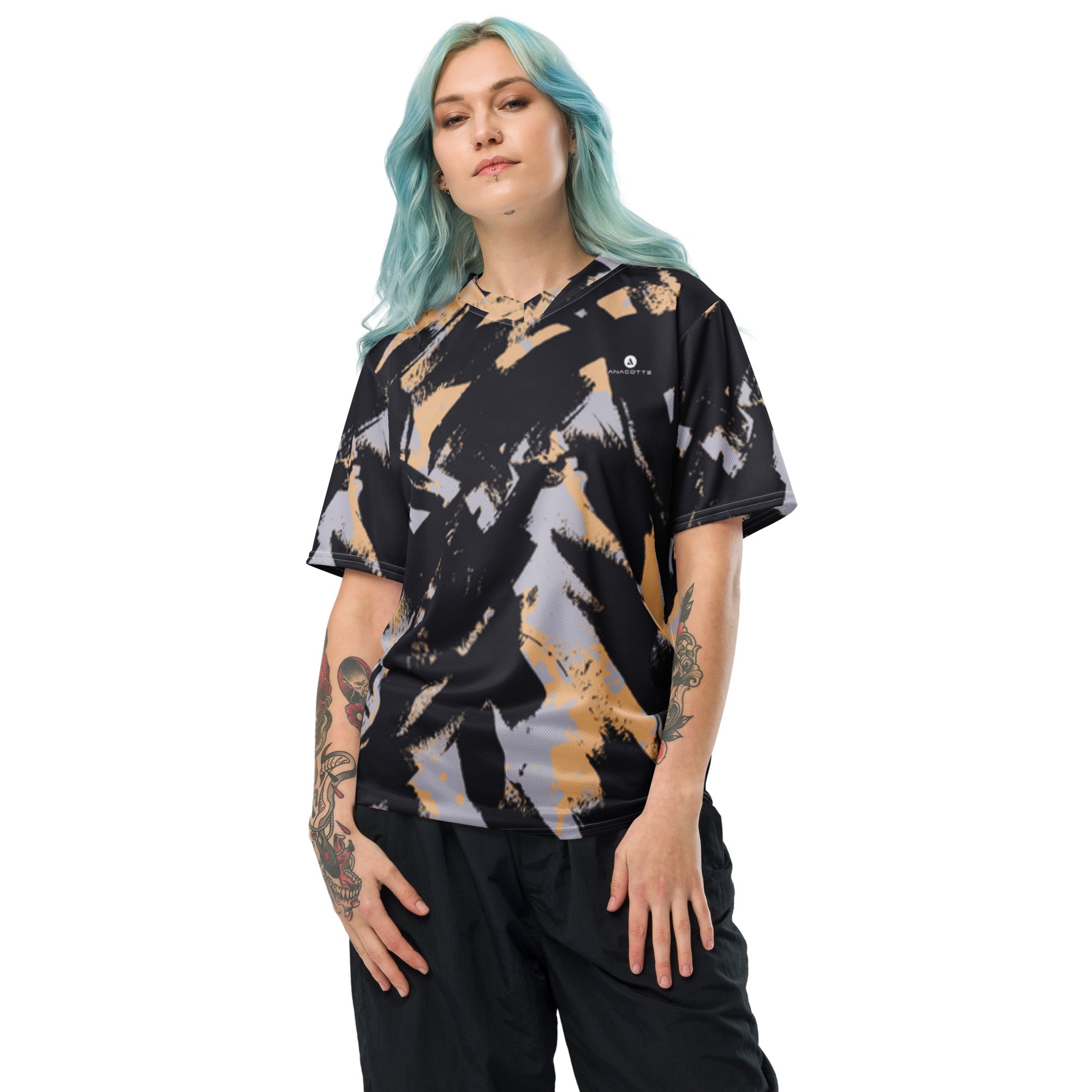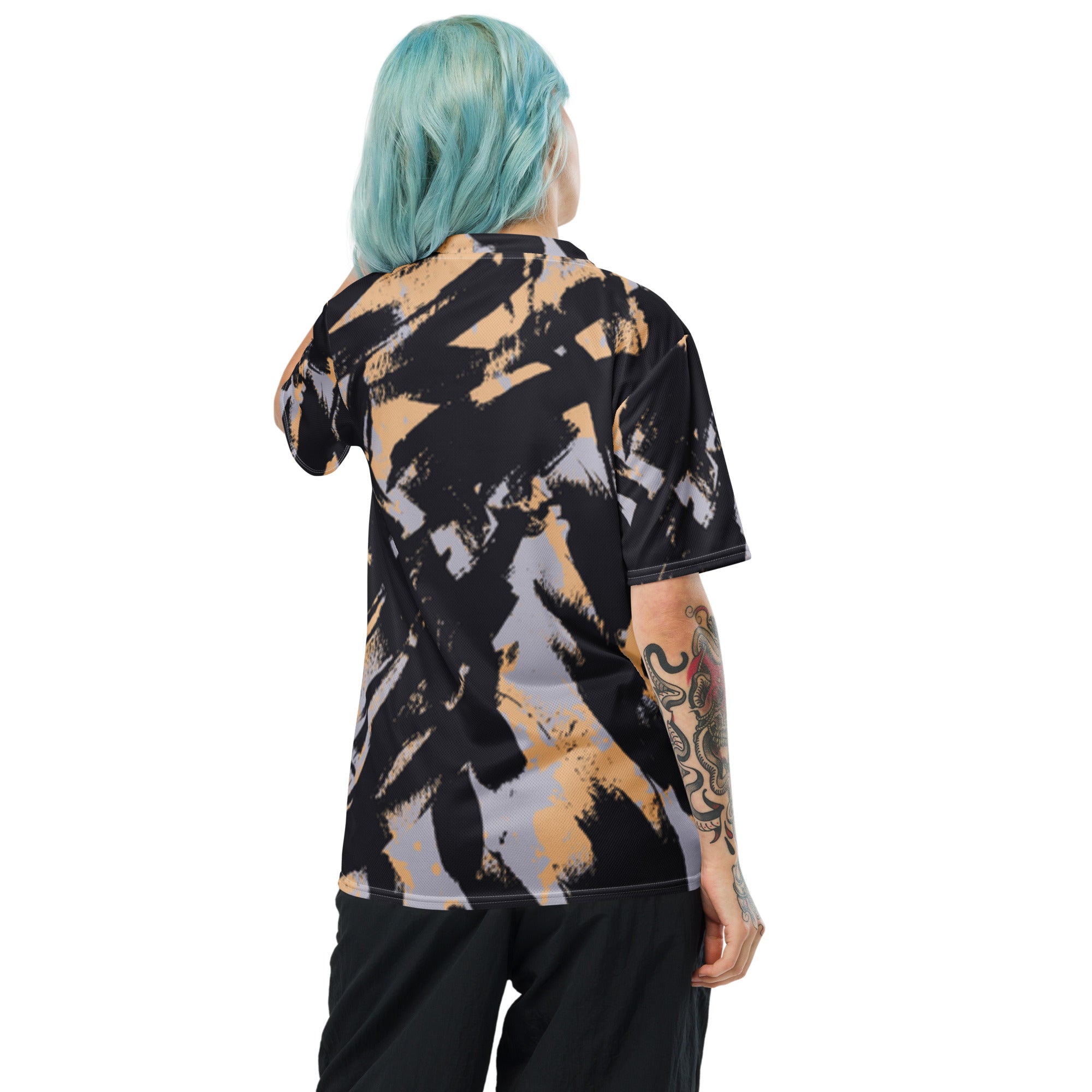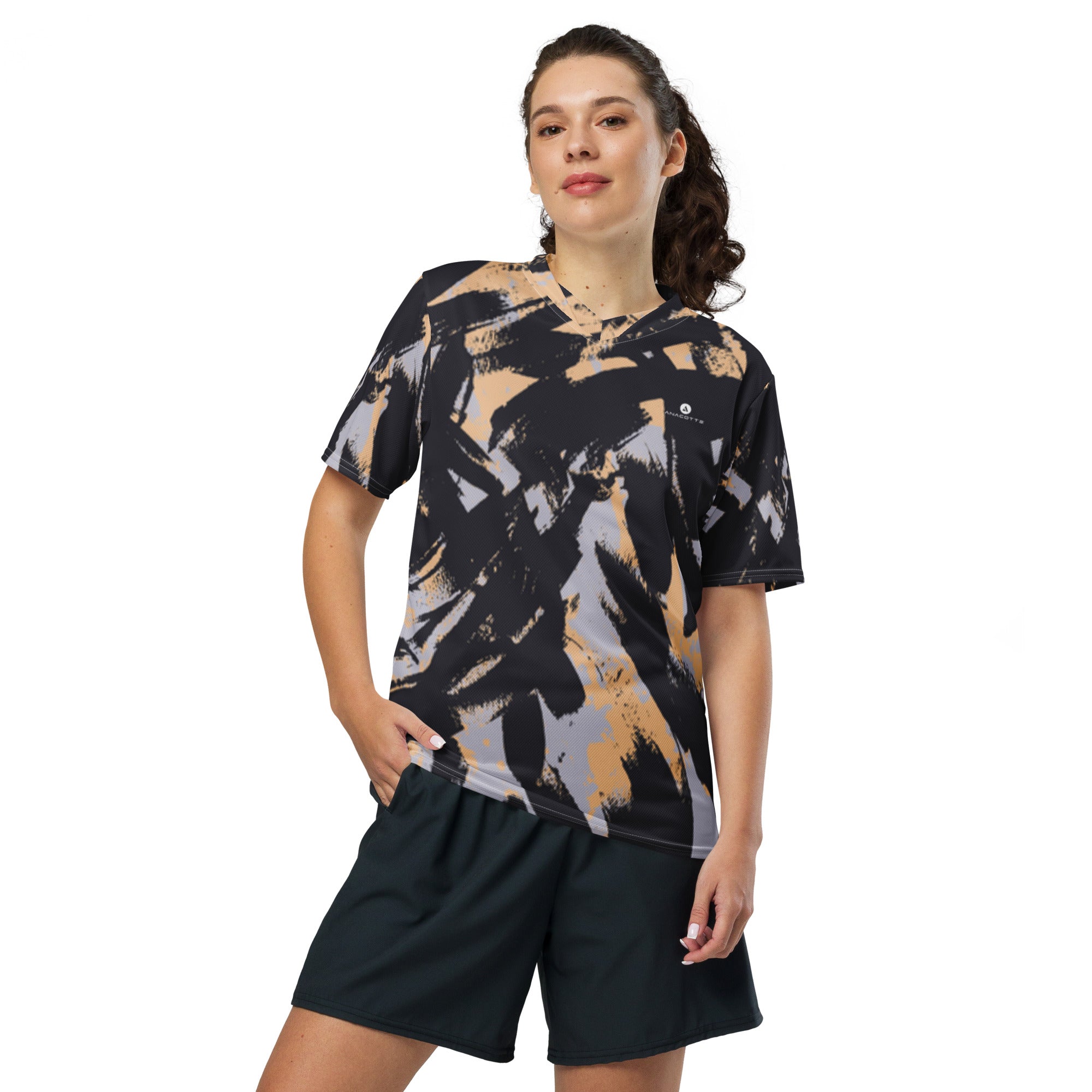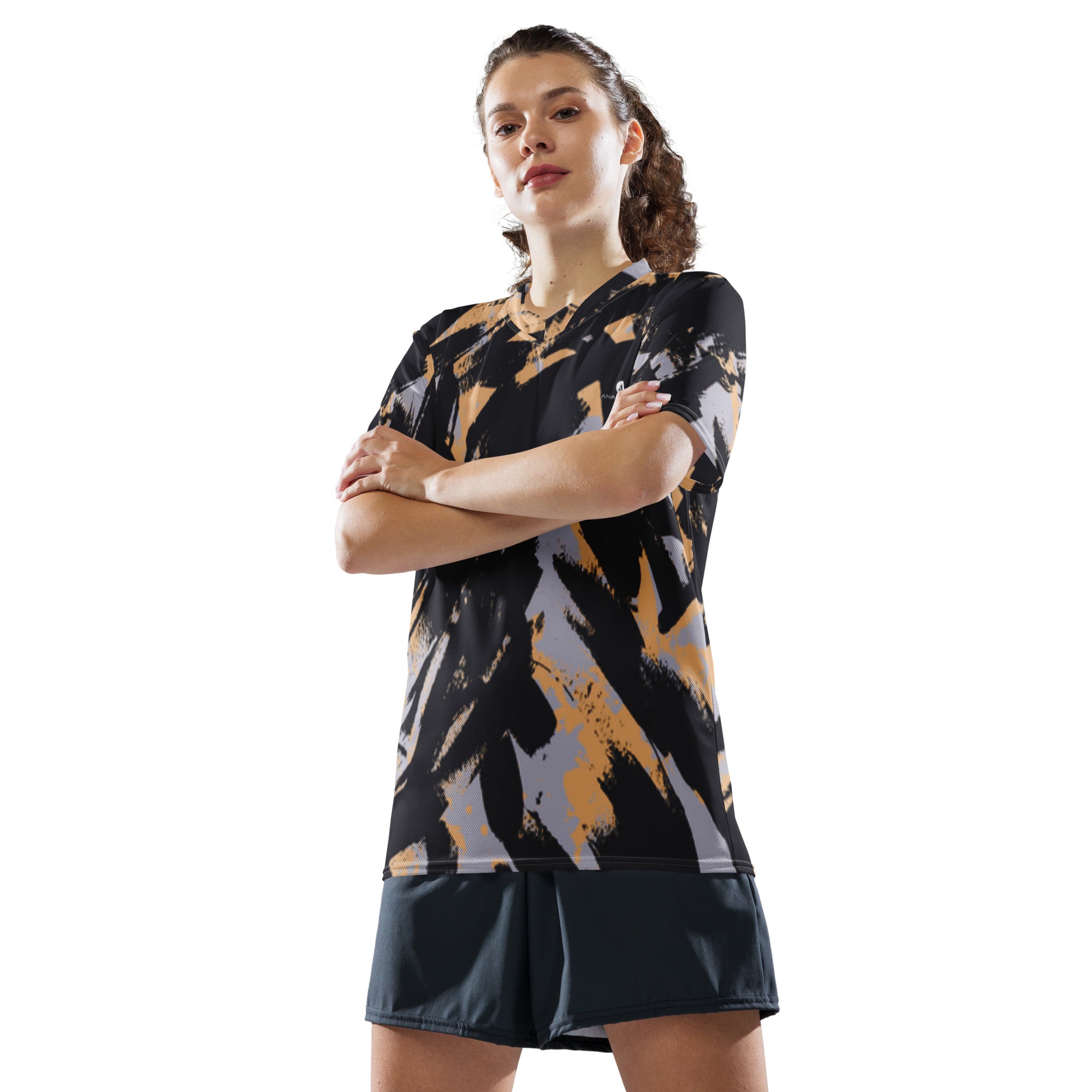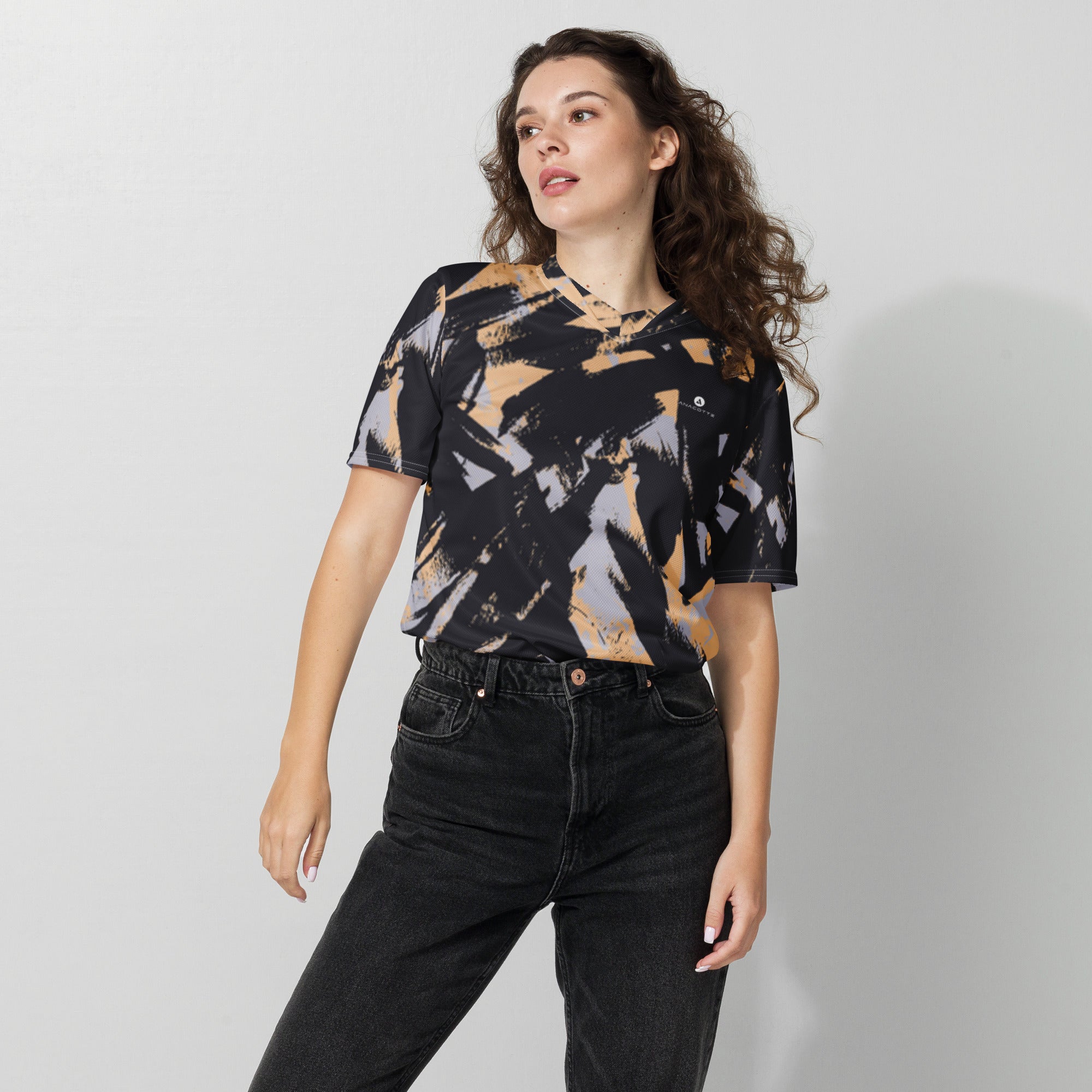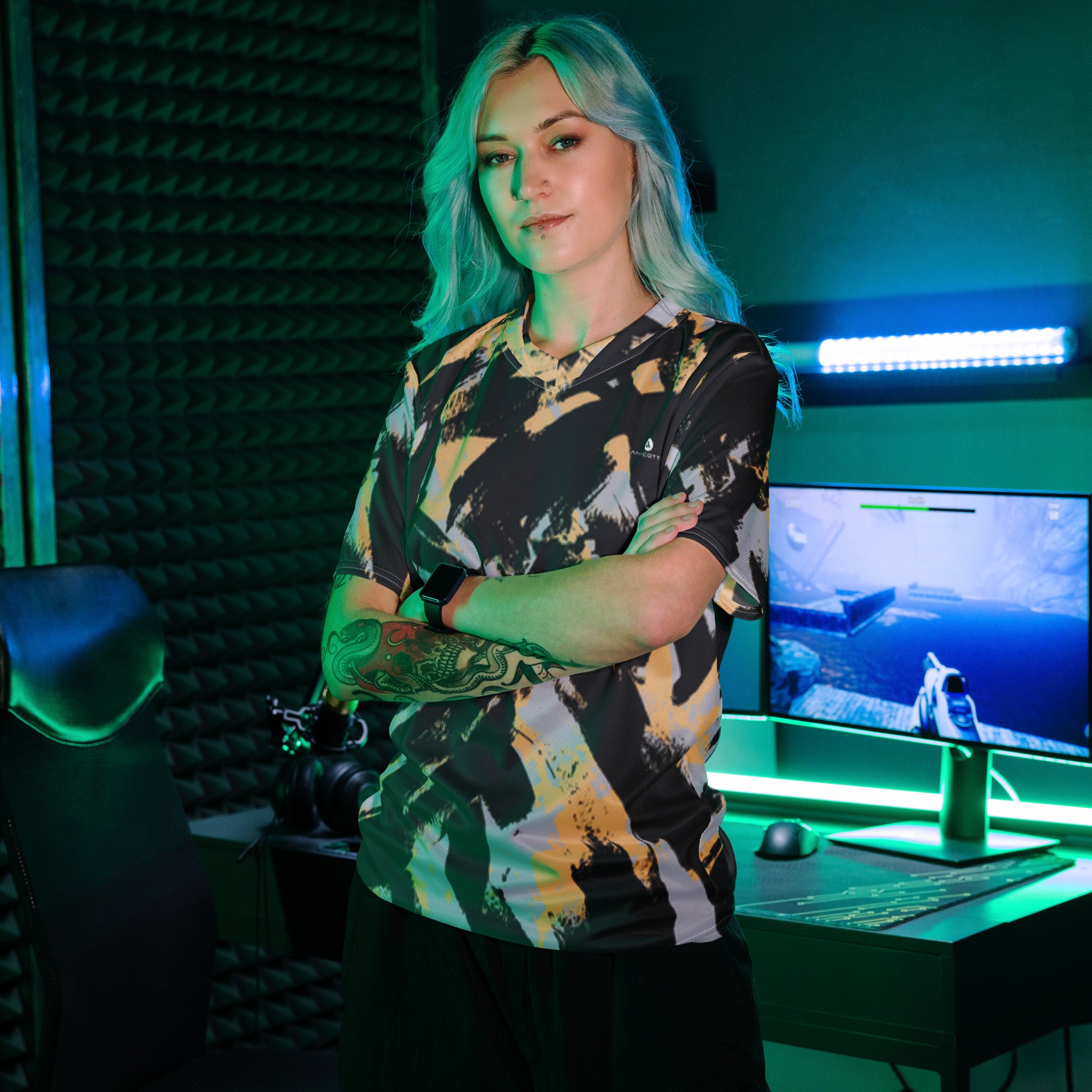 Anacotte Women sports V-Neck T-shirt
A premium sports jersey that all sports enthusiasts will feel great in even during the most intense situations. Made of eco-friendly recycled polyester fabric, this shirt is breathable, moisture-wicking, and has a double-layered v-neck collar that creates a stylish look. The double-layered v-neck collar adds a premium touch, setting this jersey apart from typical crew-necks or v-necks. Stands out at the gym, workout, indoor and outdoor sports activities. A perfect option to wear at home.

• Made with 100% eco-friendly polyester fabric

• Fabric weight: 4.7 oz/yd² (160 g/m²)

• Two-way stretch fabric

• Moisture-wicking material

• Regular fit

• UPF50+ protection

• Double-layered v-neck collar

This product is made especially for you as soon as you place an order, which is why it takes us a bit longer to deliver it to you. Making products on demand instead of in bulk helps reduce overproduction, so thank you for making thoughtful purchasing decisions!

Size guide

| | | | |
| --- | --- | --- | --- |
|   | CHEST (inches) | WAIST (inches) | HIPS (inches) |
| 2XS | 34 ⅝ | 28 ⅜ | 35 ⅜ |
| XS | 36 ¼ | 29 ⅞ | 37 |
| S | 37 ¾ | 31 ½ | 38 ⅝ |
| M | 39 ⅜ | 33 ⅛ | 40 ⅛ |
| L | 42 ½ | 36 ¼ | 43 ¼ |
| XL | 45 ⅝ | 39 ⅜ | 46 ½ |
| 2XL | 48 ⅞ | 42 ½ | 49 ⅝ |
| 3XL | 52 | 45 ⅝ | 52 ¾ |
| 4XL | 55 ⅛ | 48 ⅞ | 55 ⅞ |
| 5XL | 58 ¼ | 52 | 59 |
| 6XL | 61 ⅜ | 55 ⅛ | 62 ¼ |

| | | | |
| --- | --- | --- | --- |
|   | CHEST (cm) | WAIST (cm) | HIPS (cm) |
| 2XS | 88 | 72 | 90 |
| XS | 92 | 76 | 94 |
| S | 96 | 80 | 98 |
| M | 100 | 84 | 102 |
| L | 108 | 92 | 110 |
| XL | 116 | 100 | 118 |
| 2XL | 124 | 108 | 126 |
| 3XL | 132 | 116 | 134 |
| 4XL | 140 | 124 | 142 |
| 5XL | 148 | 132 | 150 |
| 6XL | 156 | 140 | 158 |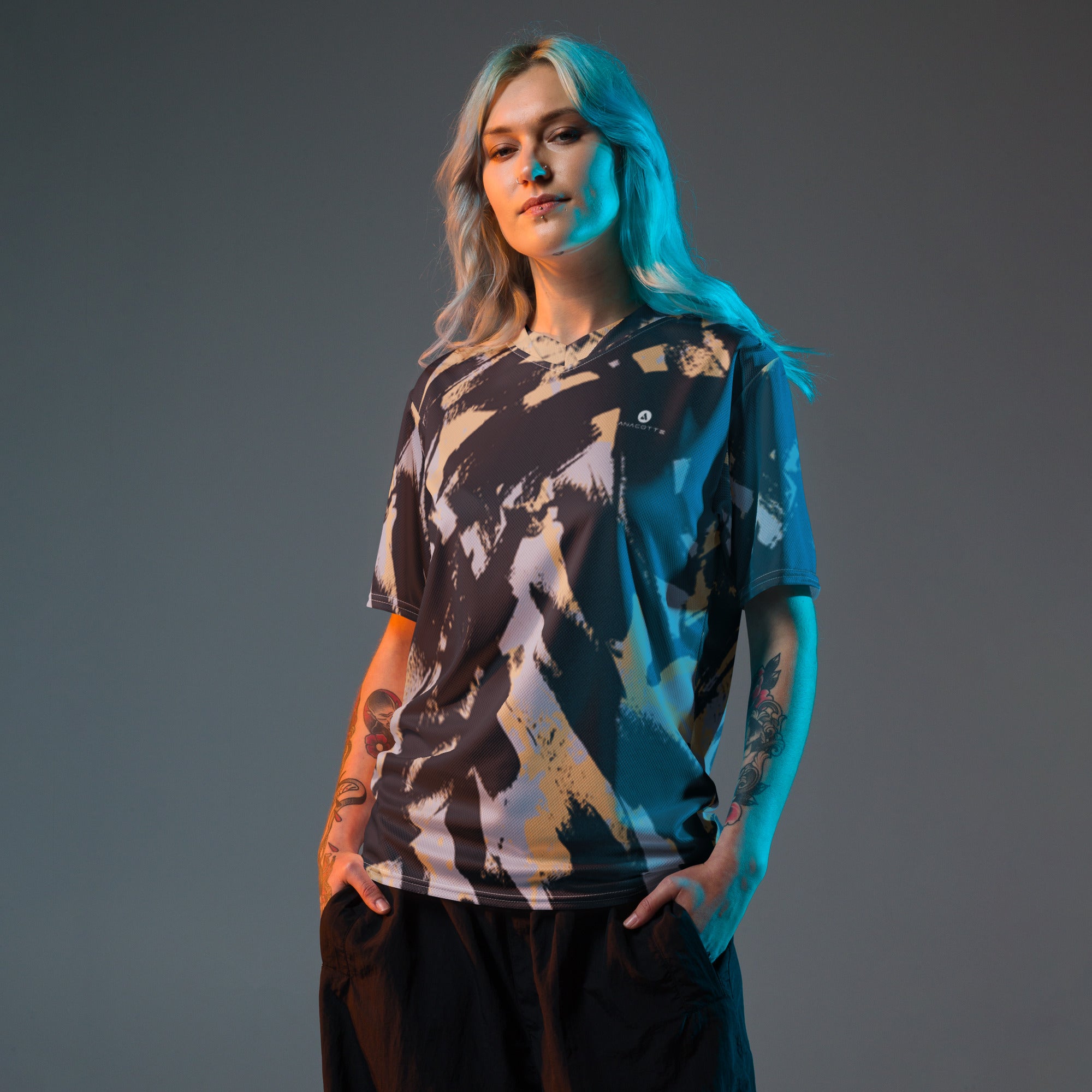 A premium sports jersey that all sports enthusiasts will feel great in even during the most intense situations. Made of eco-friendly recycled polyester fabric, this shirt is breathable, moisture-wicking, and has a double-layered v-neck collar that creates a stylish look. The double-layered v-neck collar adds a premium touch, setting this jersey apart from typical crew-necks or v-necks. Stands out at the gym, workout, indoor and outdoor sports activities. A perfect option to wear at home.
• Made with 100% eco-friendly polyester fabric
• Fabric weight: 4.7 oz/yd² (160 g/m²)
• Two-way stretch fabric
• Moisture-wicking material
• Regular fit
• UPF50+ protection
• Double-layered v-neck collar
This product is made especially for you as soon as you place an order, which is why it takes us a bit longer to deliver it to you. Making products on demand instead of in bulk helps reduce overproduction, so thank you for making thoughtful purchasing decisions!
Size guide
| | | | |
| --- | --- | --- | --- |
|   | CHEST (inches) | WAIST (inches) | HIPS (inches) |
| 2XS | 34 ⅝ | 28 ⅜ | 35 ⅜ |
| XS | 36 ¼ | 29 ⅞ | 37 |
| S | 37 ¾ | 31 ½ | 38 ⅝ |
| M | 39 ⅜ | 33 ⅛ | 40 ⅛ |
| L | 42 ½ | 36 ¼ | 43 ¼ |
| XL | 45 ⅝ | 39 ⅜ | 46 ½ |
| 2XL | 48 ⅞ | 42 ½ | 49 ⅝ |
| 3XL | 52 | 45 ⅝ | 52 ¾ |
| 4XL | 55 ⅛ | 48 ⅞ | 55 ⅞ |
| 5XL | 58 ¼ | 52 | 59 |
| 6XL | 61 ⅜ | 55 ⅛ | 62 ¼ |
| | | | |
| --- | --- | --- | --- |
|   | CHEST (cm) | WAIST (cm) | HIPS (cm) |
| 2XS | 88 | 72 | 90 |
| XS | 92 | 76 | 94 |
| S | 96 | 80 | 98 |
| M | 100 | 84 | 102 |
| L | 108 | 92 | 110 |
| XL | 116 | 100 | 118 |
| 2XL | 124 | 108 | 126 |
| 3XL | 132 | 116 | 134 |
| 4XL | 140 | 124 | 142 |
| 5XL | 148 | 132 | 150 |
| 6XL | 156 | 140 | 158 |